We are hosting our fifth annual 'Back to School' Kickoff from August 27 until the end of September. This year we are celebrating STEAM (Science, Technology, Engineering, Art, and Math) for our month-long event, as MFTA is a great place to find unique, donated materials to incorporate into hands-on, project-based lesson plans for any subject area. MFTA is open year-round on Tuesdays and Thursdays for shopping, and our 'Back to School' Kickoff is for teachers and administrators to start the school year with creative reuse, sustainable shopping, and free classroom materials.
Teachers interested in 'Back to School' shopping are required to make an appointment on online at MFTA's website.  Shopping appointments are available Tuesdays from 10:00am to 1:30pm and Thursdays from 2:00pm to 6:00pm. Over 93% of NYC public schools have MFTA accounts, check to see if your school has an account. If your school has an account, contact your principal to be added to your school's list of authorized contacts.
During our 'Back to School' Kickoff, NYC Department of Education teachers will receive a "Creative Reuse" tote bag* filled with hand-made gifts, sustainable swag, and creative ideas for lesson plans. You will also receive information about MFTA's education programs which include school field trips, professional development classes, and in-school residencies.
*Teachers with an @schools.nyc.gov email address are limited to one bag per shopper while supplies last.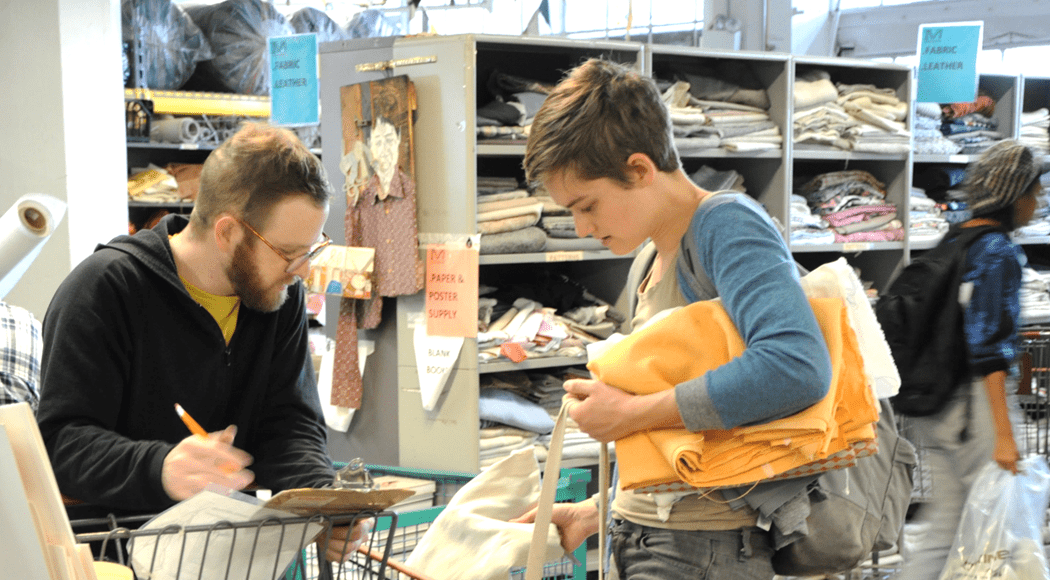 Fast Facts About Shopping
Materials for the Arts is NYC's premier reuse center for NYC public schools, arts and cultural organizations, nonprofits, and City agencies. The MFTA Warehouse has a wide variety of donated items, which are available free of charge for members Warehouse items often include office supplies, paper, binders, furniture, fabric, and beads. You must schedule an appointment online to come for 'Back to School' shopping.
No more than three people per organization may attend a shopping appointment.
If it is your first time shopping at MFTA, or if you have not been to the warehouse in more than six months, you must watch the shopping video.
Back to School – Frequently Asked Questions

Need a membership under your school account?
School principals and designated Account Managers have the ability to add, remove, and edit teachers on your MFTA account. Talk to your Principal about getting signed up. Are you a Principal or an Account Manager? See the directions for adding or removing teachers on your account.
Need answers? Be sure to visit our extensive FAQ page for more questions about our shopping rules, appointments, and managing your school's account.
Having trouble logging in you your account? Please be aware the password reset function of the website is currently disabled. Please send an email to education@mfta.nyc.gov if you would like your password reset.

Not a member? Your school probably has an account. Ask your principal or a designated MFTA Account Manager at your school to sign you up.
Interested in more information about our Back to School Event? Email pr@mfta.nyc.gov to get the press release or schedule an interview.