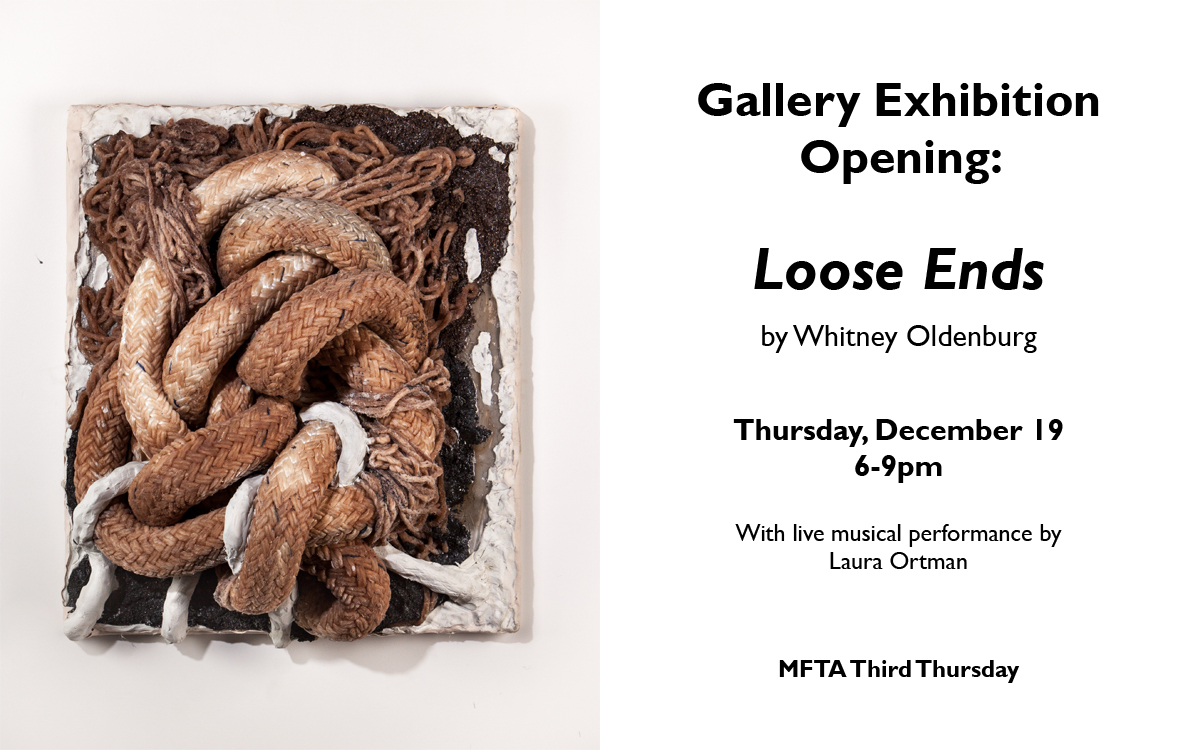 Gallery Exhibition Opening: "Loose Ends" by Whitney Oldenburg
December 19, 2019 @ 6:00 pm

-

9:00 pm
Join us for the exhibition opening of Loose Ends by MFTA's Fall 2019 Artist-in-Residence Whitney Oldenburg.  This solo exhibition includes works made from a variety of materials including rock, clay, string, tubing, and various home goods including ice trays. Fascinated by the delicate balance and reciprocal impacts humans and objects have on one another, Oldenburg provides space for these unique materials and their properties—whether firm, spongy, smooth, rigged, flexible or coarse—to shape her creations. Loose Ends continues Oldenburg's investigation of thought and feeling and what it means to be whole in the modern world.
This exhibition opening will be accompanied by a live violin performance by Whitney Biennial artist, Laura Ortman. Ortman, who now resides in Brooklyn, grew up in Whiteriver Arizona and is White Mountain Apache. She is a sculptor of sound who experiments with remixing and layering her compositions. Ortman's special performance at Materials for the Arts is a dedication to the end of 2019 and the start of a new decade.
Cover Image: Whitney Oldenburg, Made to Wait (2018), Mixed medium.
AHRC NYC Gallery Show & Holiday Art Sale
Thursday, December 19, 6-9pm
On this same night, we are proud to host the opening of AHRC NYC 2019 gallery show and holiday art sale. Artists from AHRC Cyril Weinberg Day Program have worked closely with the talented Artist-Art Consultant Judy Tanibajeva. Tanibajeva encourages her students to create various forms of art, including paintings, mosaics, and 3-D wall sculptures.
MFTA provides space for these artists to work and access to our warehouse of materials. Proceeds raised from the sale of their artwork will go directly to AHRC and the artists.
AHRC of NYC is a family governed organization committed to finding ways for people with intellectual and developmental disabilities build full lives as defined by each person and supported by family members and community partners.