PAST ARTISTS
ARTIST-IN-RESIDENCE PROGRAM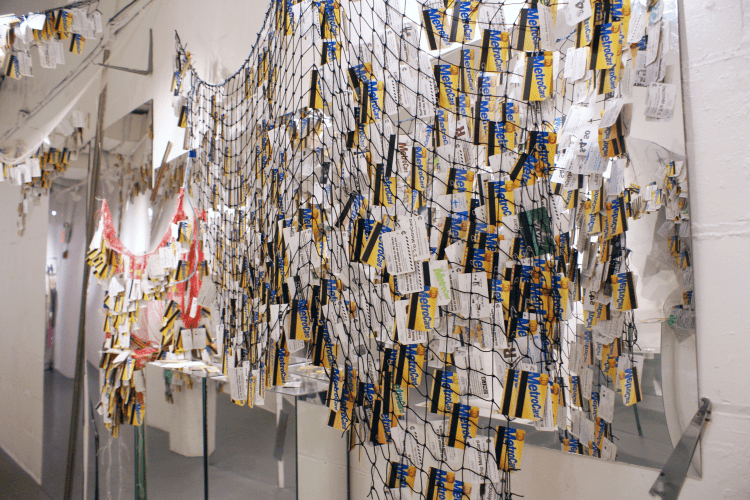 Ghanaian-born artist Tijay Mohammed has exhibited his work national and internationally, including features at the Longwood Art Gallery, Green Drake Art Gallery, Katonah Museum of Art, Hudson River Museum, The National Museum of Ghana, and Ravel D'Art (Côte d'Ivoire). Tijay has also organized workshops and community based projects with numerous organizations including the Studio Museum in Harlem, Wallach Art Gallery, University of Ghana Performance Art Center, Brooklyn Museum, Sugar Hill Children's Museum of Art & Storytelling, and Pinto Road Community Centre (Arima, Trinidad and Tobago). Inspired by the MTA's announcement, Phase 2: See something, Say something, questions who listens when you say what you see.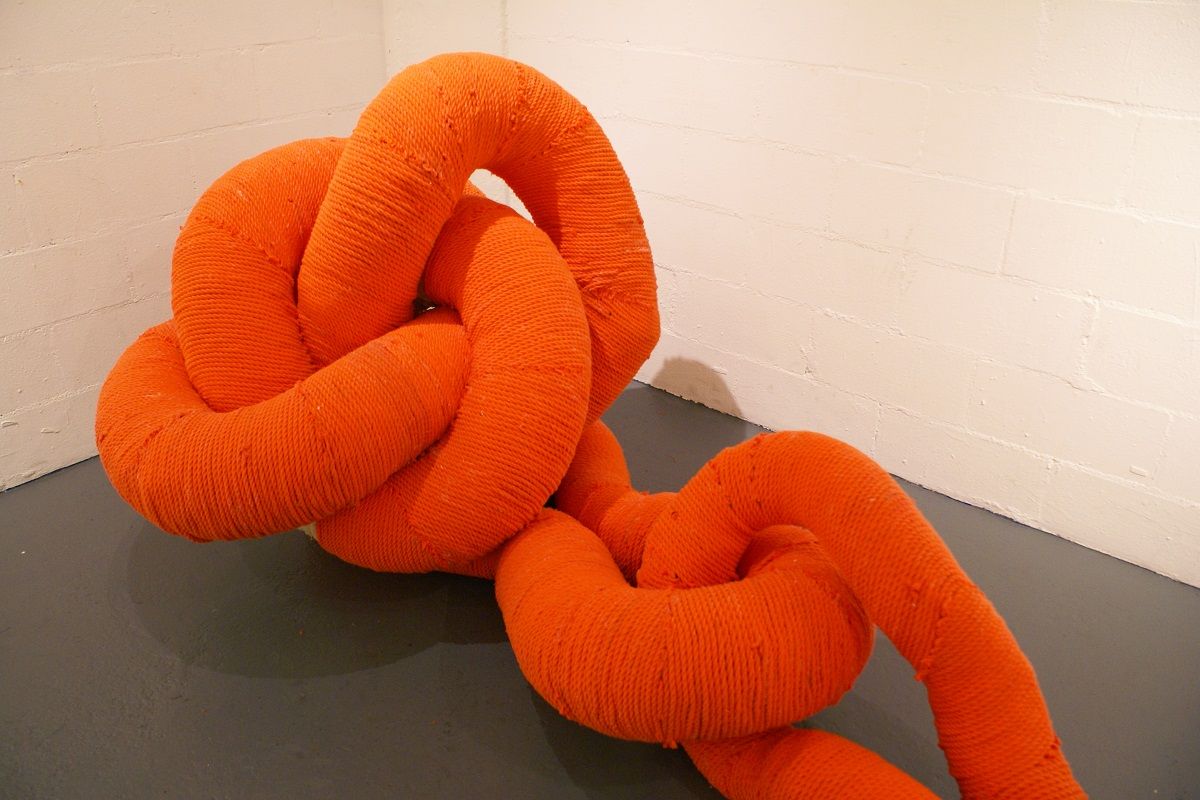 Whitney Oldenburg is a sculptor born in Jacksonville, Florida, who currently resides in New York City. Her solo exhibition, Loose Ends, includes works made from a wide variety of materials including rock, clay, rope, string, ventilation tubing, and various home goods including ice trays. Loose Ends examines the the desire to keep things tightly bound or complete, when they so easily can become unraveled.
Annalisa is known for breathing new life into repurposed materials with an ability to transmute reclaimed objects such as corrugated metal, found wood, rusty nails and car bumpers into enchanting yet powerful forms of artistic expressions. Through her work, Annalisa gives voice to social injustice and environmental problems as a means to explore overlooked issues and encourage conversation and social change. Her work has been included in various group shows in New York, Italy and India.
Since 1990 Sol'Sax has produced objects, images, and performances that fuse African-American cultural heritages like Hip-Hop, House, Reggae, Soul, Jazz, Blues, and spirituals with traditional African religions like Yoruba, Congo, Mende, Akan, and Fon. He has exhibited at Rush Arts, the Brooklyn Museum, The Studio Museum in Harlem, P.S. 1 MoMA, Sculpture Center and the Fowler Museum in Los Angeles among other venues.
Using twists, knots, ties, textures, and color Dianne Smith invites viewers to explore and embrace their innermost thoughts and feelings about identity, Race, gender, religion, inequity and power. She creates work to liberate consciousness thus confront sociopolitical and socioeconomic issues. Smith's use of discarded materials bridges historical context, socially, culturally, and politically with her lived experiences. She creates in response to the events, circumstances and times of the world around her.
Found and Funky, a solo exhibition of mixed media and assemblage works produced by artist Michael Kelly Williams during his fall artist residency at MFTA.
Drawing inspiration from the expansive collection of found objects available in the MFTA warehouse, "Found" conveys the sense of affirmation in discovering new objects, while "Funky" pays homage to a popular jazz term used to convey praise of an art piece having achieved its highest form. In Found and Funky, Williams transforms items once deemed unworthy of use to a newly transcendent title of artwork.
Through community engagement and an intricate and labor intensive process, Jean Shin transforms everyday objects into large scale installations. She collects large quantities of objects that refer to their previous user, making connections to the human body, the individual, and our society. Shin's exhibitions include the New Museum of Contemporary Art, the Museum of Art and Design, the Houston Museum of Fine Arts, the Boston Museum of Fine Arts, Asia Society and Museum, The Brooklyn Museum,Sculpture Center, Socrates Sculpture Park, and Cristin Tierney Gallery in New York City.
Juan Hinojosa is a mixed-media artist who currently lives and works in New York. Constructed from found objects, his complex collage-drawings intimately challenge greed, obsessive consumption, and the social stratification of American culture. Hinojosa's exhibitions include Queens Museum of Art, the 2011 biennial at El Museo del Barrio, and a solo exhibition at Allegra LaViola Gallery.
Edisa Weeks is a Brooklyn, NY based choreographer, educator and director of DELIRIOUS Dances. Weeks creates intimate environments that merge theater with dance.
Michelle Sutherland and Theater Plastique
Spring 2015
Michelle Sutherland is a theater director and performance creator who develops original music theater, opera, and musical video. Michelle began her work in the field of performance as the guitarist of an eight-piece gypsy jazz punk band. Her work with the ensemble spanned five years and taught her valuable lessons in creating and sustaining punk-rock levels of co-creativity. Michelle formed the artist collective Theater Plastique which created the award-wining original pop opera, Gertrude Stein SAINTS!
Lina Puerta
Fall 2014
Lina Puerta is a Colombian-American NYC-based sculptor. She creates hybrid anatomical and botanical forms that capture the fragility of both nature and the body. Her recent work focuses on the process of decay in nature and also the wearing of layered surfaces over time. She creates works using a wide array of mixed media materials including found objects, fabric, reusable items, plants, and other natural objects. The unique qualities of color, texture, and form present in existing materials inform her creative process.
Bernard's work involves taking apart discarded objects made from plastic, metal, and styrofoam. He then reassembles those materials into large patchwork sculptures composed of dynamic "quilts" of different materials and colors that remind us to rethink the things we put into the waste stream every day. Klevickas' exhibit at MFTA, History of Stuff, was a homage to history as well as a commentary on our current environmental, political, and cultural state.
Vadis re-imagines gender roles, rites of passage and the classification of heirlooms in a contemporary cultural context. Her craft-based process synthesizes her mixed media palette with her painting background. She "paints" with layers of ribbon, dyed clothing, and hand-sewn textiles; the materials become marks, drips and washes.
Pederson created unique assemblages out of warehouse discoveries like discarded trophies, a lava lamp, AstroTurf, broken lampshades, and corrugated cardboard. Some of his pieces include intricate fabric weavings from old scraps and other works transform kitschy household objects like ketchup and mustard bottles and corn cob holders into artistic elements
The artist and fashion designer Beth Williams Garrett was the 2012 Artist-in-Residence at Materials for the Arts. For more than 30 years, Garrett has shown her artwork in museums and galleries up and down the East Coast. Her most recent work, exhibited at Gotham Center in May 2012 for the LIC Arts Open, transforms recyclables and plastic bags into sculptures inspired by Buddhist temples and ancient ruins. Garrett studied painting at the Rhode Island School of Design.