THE MFTA GALLERY
Experience the Art of Creative Reuse
In 2012, Friends of Materials for the Arts funded the creation of the MFTA gallery. This former hallway is now a dynamic exhibition space inspiring guests to see how artists integrate a wide variety of materials into their work and bring Creative Reuse to life.
MFTA hosts a about 5 gallery shows per year.
Spring 2022 Artist-in-Residence
Nicole Awai
Nicole Awai, born in Port of Spain-Trinidad and Tobago, creates multi-media works that infuse found objects and non-traditional mediums such as nail polish, melted vinyl, and found doll parts. Her process often informed by social, historical, and economic issues in the Americas. Awai earned a Master's in Multimedia Art from the University of South Florida in 1996 and attended Skowhegan School of Painting and Sculpture in 1997. She was the recipient of the Joan Mitchell Painters & Sculptors Grant in 2011 and an Art Matters Grant in 2012.
Awai's installations, paintings, and sculptures have been exhibited at MoMA PS1, The Studio Museum in Harlem, Brooklyn Museum, the Bronx Museum of the Arts, Queens Museum, The Vilcek Foundation, Sperone Westwater, Lesley Heller Gallery, The High Line, ArtsWestchester, Kemper Museum of Contemporary Art, and Busan Museum of Art in South Korea. From 2009 to 2015, Awai was a Critic at the Yale School of Art in the Department of Painting and Printmaking. She is currently faculty in the Department of Art and Art History at the University of Texas at Austin. Awai is represented by Barbara Davis Gallery in Houston, Texas.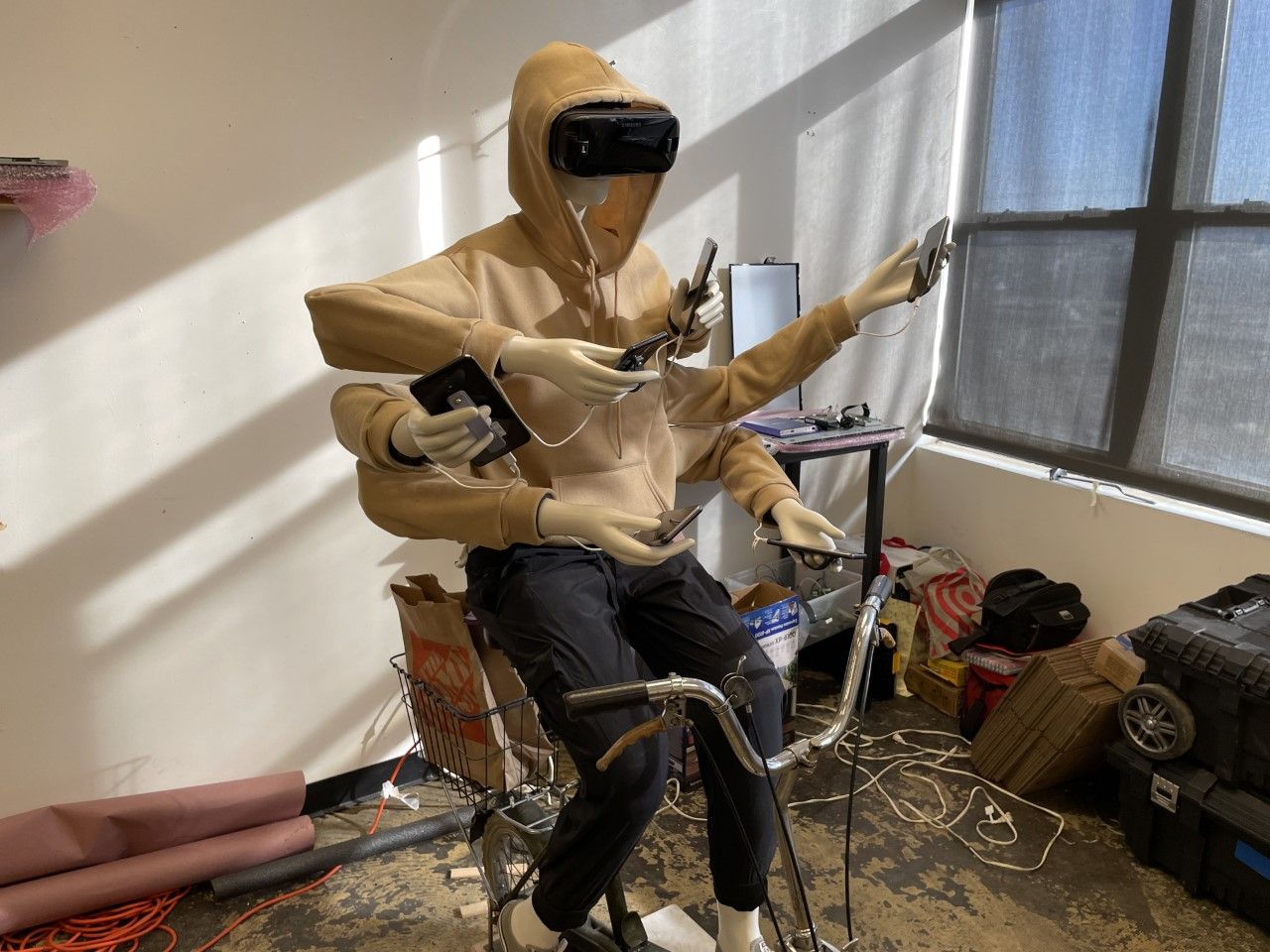 March 24 @ 9:00 am
-
June 3 @ 5:00 pm
Previously on view at Chashama's gallery space in Union Square, "Everything and Nothing at All" by MFTA Artist-in-Residence Barak Chamo features installations exploring the ways technology manifests in our daily lives. Using discarded technologies and relics of endless consumption, Chamo's practice is informed by his early career in engineering, and his work explores a wide […]
Seeing Creative Reuse in action is an invaluable source of inspiration for the public. The bi-annual MFTA Artist-in-Residence program invites artists who incorporate reusable materials into their practice to share their work with visitors.
Program Overview
The residency lasts for three months and concludes with a solo exhibition at the MFTA Gallery.
Requirements:
Resident artist must already incorporate reusable materials or concepts of Creative Reuse into their practice.

Meet and work with students and visitors several times a month to give tours of the MFTA studio space, lead one art workshop on a Third Thursday.
Benefits include:
Private workspace and access to materials at the MFTA warehouse.

Stipend
Artists interested in submitting relevant work for the MFTA Gallery are welcome to email a letter of intent and artwork images or website links to education@mfta.nyc.gov.
Please note that MFTA Gallery primarily shows artwork that is created from the transformation of reusable materials. The MFTA Gallery offers Group Shows, monthly artist showcases, performances, as well as our competitive Artist-in-Residence program.
6000
Students Tour the Gallery Each Year
22000
MFTA members see the Gallery each year
2
Artists-in-Residence Per Year
Made possible by
A special thanks to the


for continued support of our gallery programs.