THE MFTA GALLERY
Experience the Art of Creative Reuse
In 2012, Friends of Materials for the Arts funded the creation of the MFTA gallery. This former hallway is now a dynamic exhibition space inspiring guests to see how artists integrate a wide variety of materials into their work and bring Creative Reuse to life.
MFTA hosts a about 5 gallery shows per year.
Fall 2021 Artist-in-Residence
Barak Chamo
Barak Chamo is an interdisciplinary media artist living and working in New York. His work explores the limits of perception, what is seen and unseen by the human system. Questioning common notions of progress and value, he attempts to deconstruct the form and function of media, exposing the ways in which our experience is shaped by spiraling social and technological forces. Chamo graduated from the Interactive Telecommunication Program at New York University, where he later taught at the Department of Digital Media. He was a resident at MASS MoCA's Studio program, HoloCenter and IDEALab and was awarded the IDFA Immersive Non-Fiction Award and Special Jury Award for Creative Technology. His work was recently featured at Currents New Media, Fresh Paint Art Fair, Museum of the Moving Image and other international exhibitions.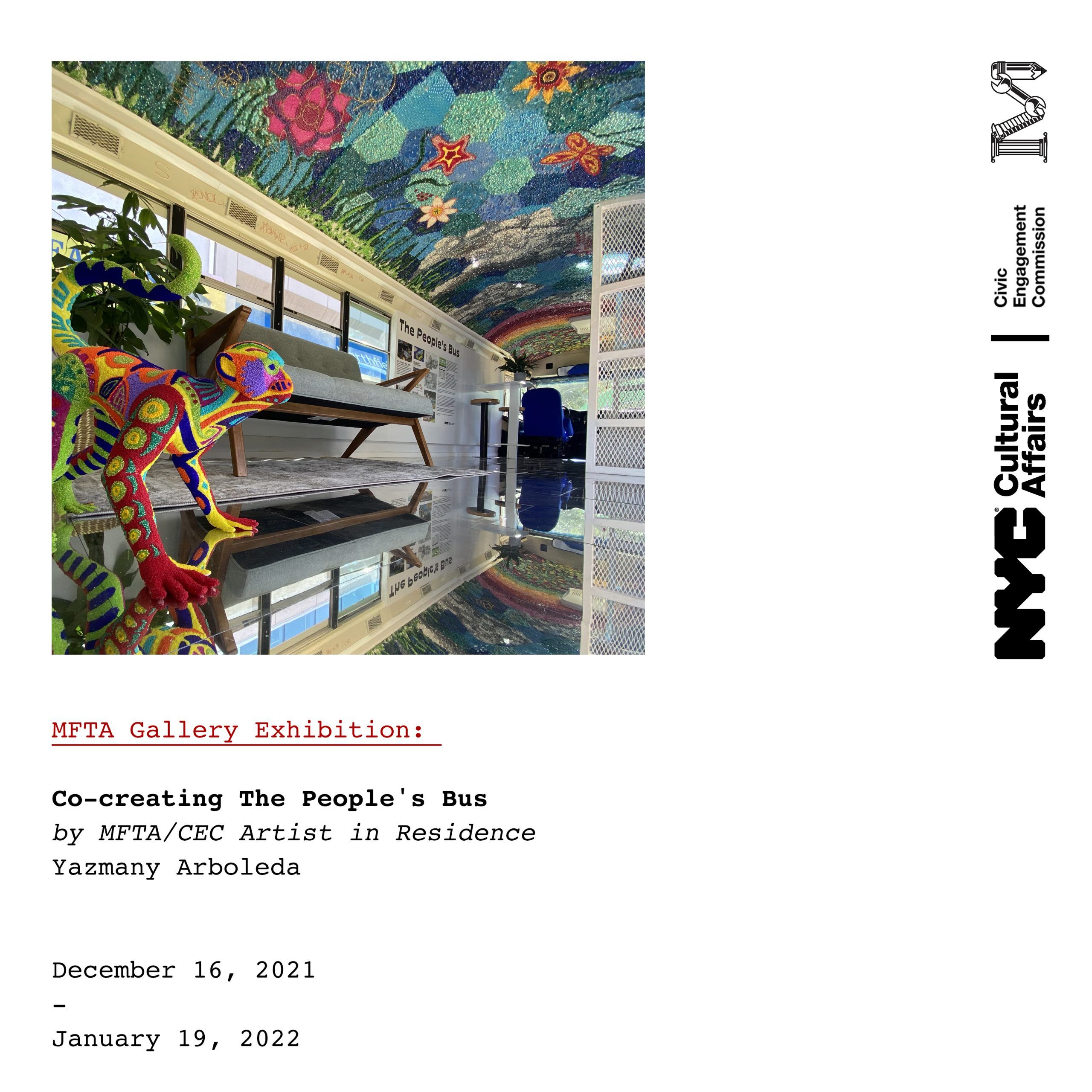 December 16, 2021 @ 10:00 am
-
February 17, 2022 @ 4:00 pm
"Co-creating The People's Bus," an exhibition showcasing Yazmany Arboleda's Public Artist in Residence project created in collaboration with the NYC Civic Engagement Commission and the NYC Department of Cultural Affairs. Created by Arboleda, "The People's Bus" is a retired city vehicle that has been transformed with input from New Yorkers into a community center on […]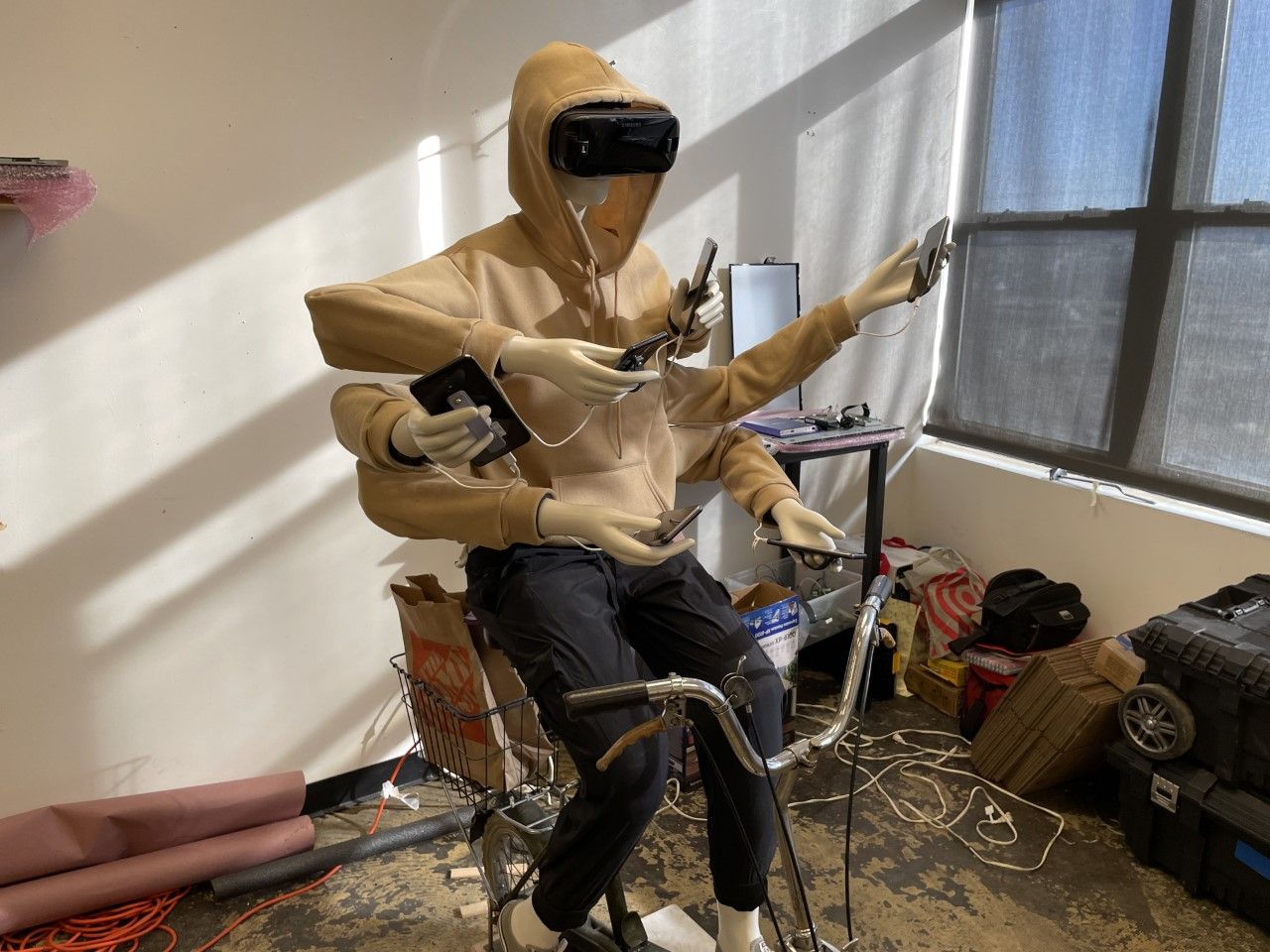 January 20 @ 6:00 pm
-
9:00 pm
Join us at Chashama's gallery at Union Square for the exhibition opening of "Everything and Nothing at All" by MFTA Artist-in-Residence Barak Chamo. Using supplies from the MFTA warehouse, Chamo has transformed discarded technologies and relics of endless consumption into installations reflecting on the ways technology manifests in our daily lives. Chamo's practice is informed […]
Seeing Creative Reuse in action is an invaluable source of inspiration for the public. The bi-annual MFTA Artist-in-Residence program invites artists who incorporate reusable materials into their practice to share their work with visitors.
Program Overview
The residency lasts for three months and concludes with a solo exhibition at the MFTA Gallery.
Requirements:
Resident artist must already incorporate reusable materials or concepts of Creative Reuse into their practice.

Meet and work with students and visitors several times a month to give tours of the MFTA studio space, lead one art workshop on a Third Thursday.
Benefits include:
Private workspace and access to materials at the MFTA warehouse.

Stipend
Artists interested in submitting relevant work for the MFTA Gallery are welcome to email a letter of intent and artwork images or website links to education@mfta.nyc.gov.
Please note that MFTA Gallery primarily shows artwork that is created from the transformation of reusable materials. The MFTA Gallery offers Group Shows, monthly artist showcases, performances, as well as our competitive Artist-in-Residence program.
6000
Students Tour the Gallery Each Year
22000
MFTA members see the Gallery each year
2
Artists-in-Residence Per Year
Made possible by
A special thanks to the


for continued support of our gallery programs.