VIRTUAL GALLERY
"Phase 2: See something, Say something"
Materials for the Arts is pleased to present "Phase 2: See something, Say something" by MFTA Artist-in Residence Tijay Mohammed.
While working at MFTA, Tijay gathered a diverse array of materials including MetroCards, beads, hats, and t-shirts, which he has transformed into multiple large-scale installations. Mohammed's perceptive use of commonly found objects creates poetic representations of real world issues.
Due to COVID-19, the MFTA Gallery is not open to the public, but we hope you enjoy a 3D virtual tour of the exhibition designed by Stephen Sebunya.
See Something, Say, Something II, 2020.
Chandelier, metro cards, handcuffs, beads, and fishing line.
See Something, Say Something, 2020.
Metro cards, variety of nets, paper clips, and mirrors.
BLACK BLACK BLACK, 2020.
Acrylic Paint, resin, glitter glue on baltic birch plywood.
Tijay Mohammed
Anas Aremeyaw Anas: Tribute to Ahmed Hussein-Suale, 2020.
Variety of hats, beads, fishing line, S-hooks, and clothing rack.
Anas Aremeyaw Anas: See Something, Say Something, 2020.
Acrylic and cotton t-shirts. In collaboration with Kantamanto tailors in Ghana.
Is yesterday eating today's tomorrow?, 2020.
Acrylic on canvas, LED light, in baby crib.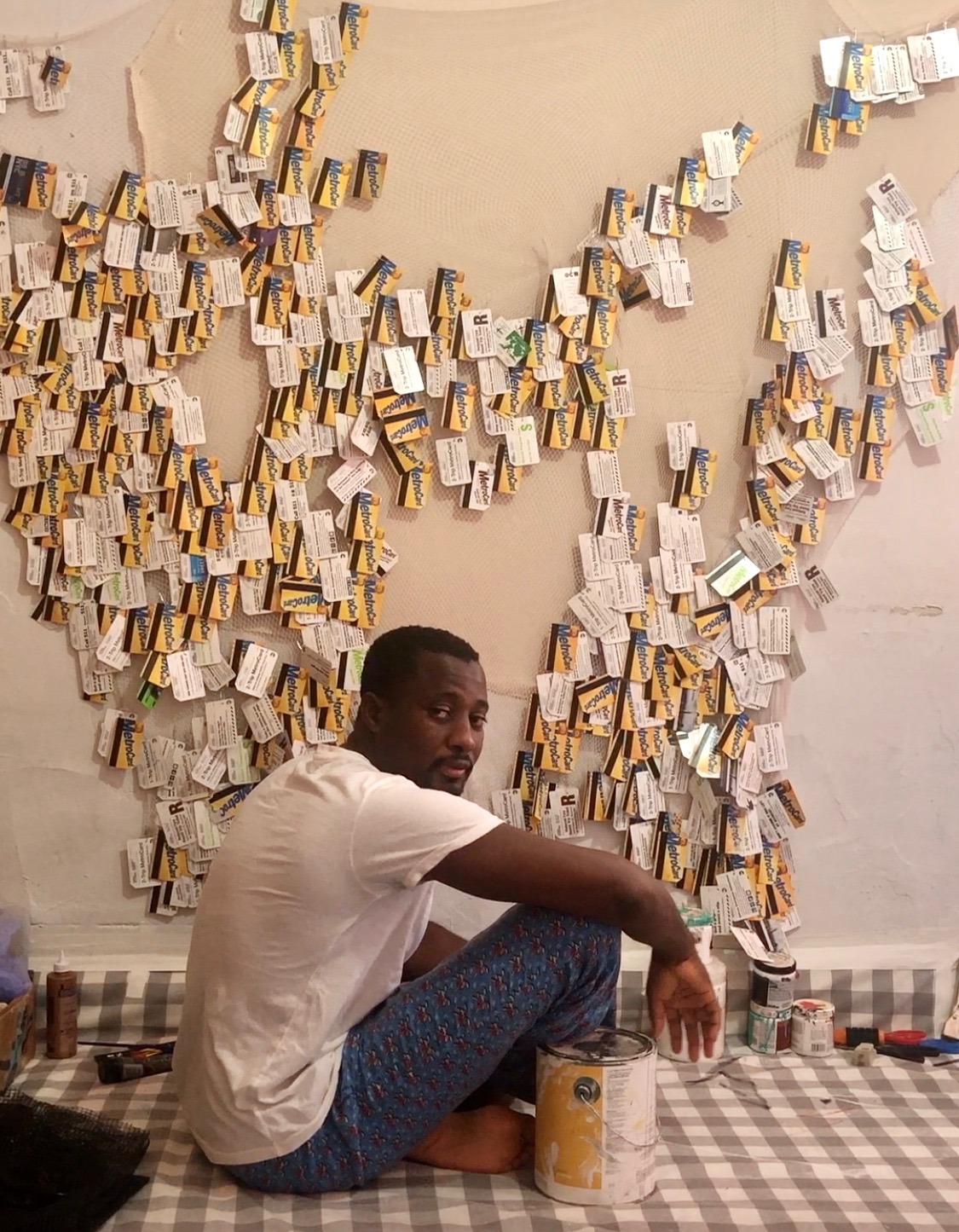 About Tijay Mohammed
Ghanaian-born artist Tijay Mohammed has exhibited his works national and internationally, including features at Katonah Museum of Art, Hudson River Museum, Materials for the Arts, Art League Houston, Longwood Art Gallery, Green Drake Art Gallery, and The National Museum of Ghana. Tijay has also organized workshops and community-based projects for organizations including the Studio Museum Harlem, Hudson River Museum, Brooklyn Museum, Sugar Hill Children's Museum of Art & Storytelling, Children's Museum of Manhattan, Wallach Art Gallery, University of Ghana, and Pinto Community Centre Trinidad and Tobago. 
In addition, he has received numerous accolades and residencies from The Laundromat Project NY, Children's Museum of Manhattan, Hudson River Museum, Materials for the Arts, Ravel d'Art Cote d'ivore, Harmattan Workshop Nigeria, Global Crit Clinic, and Asiko Artist Residency Ghana. Among many grants, Tijay is a recipient of Arts Fund, Artist for Community and New Work grant from the Bronx Council on the Arts, and the Spanish Embassy Ghana Painters Award. He is committed to working with the diverse communities with which he surrounds himself. Tijay currently resides in The Bronx NY and also maintains a studio in Ghana.
MFTA highlights amplifies artists whose practice incorporates creative reuse. Learn more about reuse art and the MFTA Gallery.