MATERIALS FOR THE ARTS: LEARNS ONLINE
BIG PENDANT NECKLACE
WHAT IS MATERIALS FOR THE ARTS?
INTRO VIDEO
WHAT ARE WE DOING?
TODAY'S ACTIVITY
Today, we are going to create large bead to hang from the middle of our necklaces. This big bead is called a PENDANT  which means it hangs free on a string or chain. It's supposed to be the biggest and most beautiful bead or piece on your necklace. We'll also learn how to make ALUMINUM BEADS or spacer beads to go around our Pendant. These will be made out of Aluminum Foil!
The great thing about this project is these are items you have at home.  You can use any kind of paper, cardboard,  newspapers, post-its, old maps and junk mail. 
By using unneeded materials, it's great for the environment because :
Keep objects and materials out of the LANDFILLS.
They forces us CREATIVELY THINK about the things we don't want.
They are a RESOURCE to the Arts. A resource is something that is important, useful, or meaningful.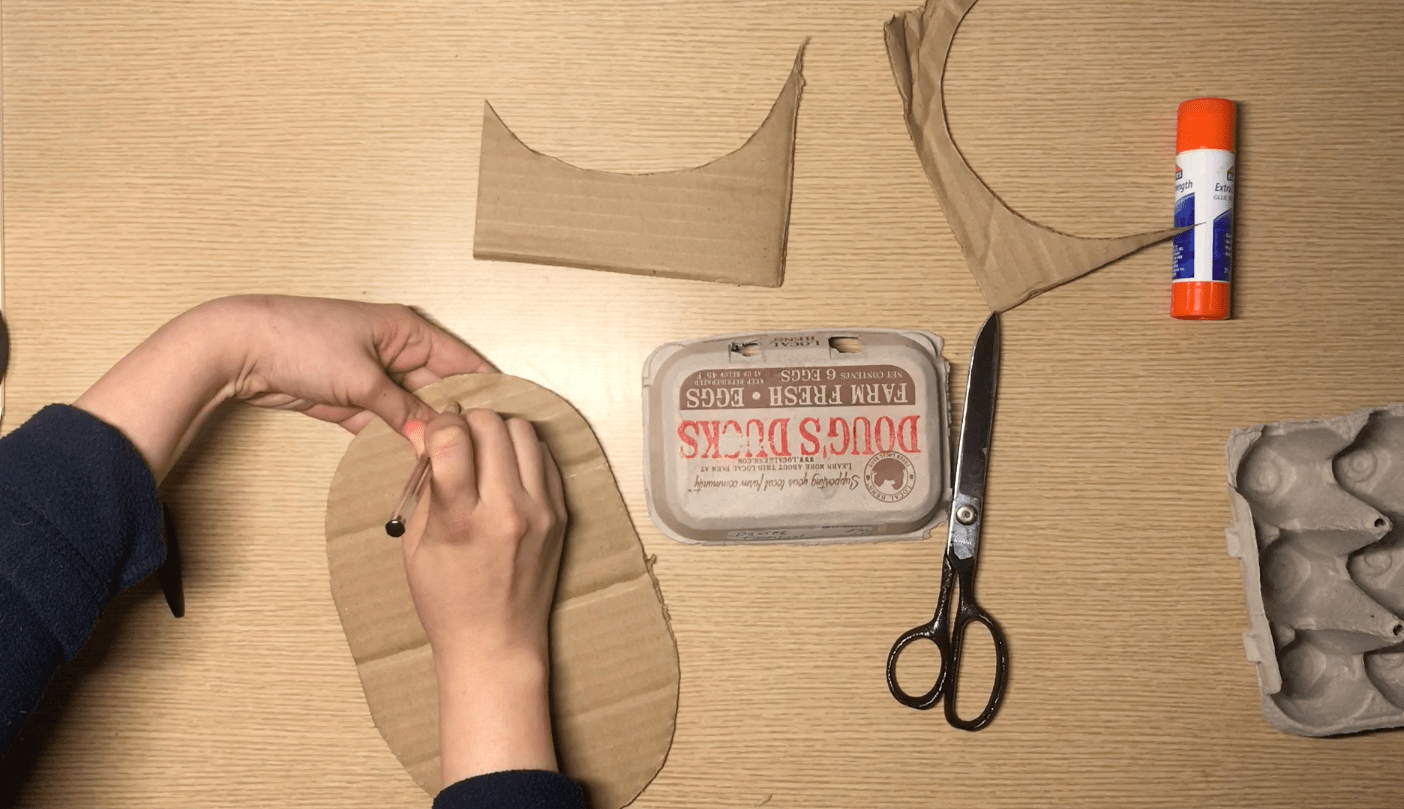 MORE INFORMATION!
FUN FACTS
Pendant Necklaces have existed for centuries. In Ancient Egypt, wealthy Egyptians would keep small objects on necklaces, rings, or close to their body. These objects were called AMULETS. 
An amulet is an object believed to have certain positive properties that, as the amulet's main function, can magically be bestowed upon its owner. In ancient Egypt, this magical power was often derived from a combination of several aspects, such as the amulet's shape, decoration, inscription, color, material, and words spoken over the piece or acts performed with it. Amulets were usually worn or placed on the body to transfer their powers directly to the owner.   (Metropolitan Museum of Fine Art)
Often, Amulets were made into pendants, they had holes that connected to string, and could be worn easily around the neck. Egyptians believed that these small objects would give the wearer special advantages. Amulets could promise the wearer a long life, protect them from diseases, keep them away from their enemies, or even protect someone in the after life.
If you feel inspired, watch this video from the Metropolitan Museum of Fine Art about a Pendant Necklace that was over 4000 years old!
WHAT WILL WE NEED?
MATERIALS
Scissors
Cardboard
Colored Paper
Use any of these materials you can find!
Glue (or IY Glue!)
String
Markers
Pencils
Paint + Brushes
Tape
Plastic Wrap
Old T-Shirt
Decorative Materials
And here are some great places to look:
Kitchen
Recycling Bin
Clean Trash 
Junk Drawers
Deep part of closets 
LETS GET STARTED!
INSTRUCTIONS
PENDANT NECKLACE INSTRUCTIONS:
| | | |
| --- | --- | --- |
| 1. | PENDANTS ARE THE SINGLE BIGGEST BEADS THAT HANG DOWN FROM THE MIDDLE OF YOUR NECKLACE. | |
| 2. | FIRST CUT A SHAPE OUT OF CARDBOARD OR THICK PAPER. | |
| 3. | CUT OR PUNCH A SMALL HOLE THROUGH THE TOP OF BEAD, SO THAT THE STRING CAN EASILY MOVE THROUGH THE HOLE. | |
| 4. | GLUE OR TAPE DETAILS ONTO YOUR PENDANT, USING PAPER, FABRIC, OR  OTHER DECORATIVE ELEMENTS. | |
| 5. | THEN STRING YOUR PENDANT ONTO A STRING, LETTING IT HANG IN THE MIDDLE OF YOUR NECKLACE. | |
ALUMINUM BEADS INSTRUCTIONS:
1.

TO MAKE ALUMINUM BEADS, TAKE A SHEET OF ALUMINUM THAT HAS BEEN USED AND RINSE OFF ANY FOOD OR OIL STAINS.

2.

TEAR A STRIP OF ALUMINUM A LITTLE WIDER THAN THE SIZE YOU WANT YOUR BEAD.

3.

LOOSELY WRAP YOUR ALUMINUM AROUND YOUR THUMB.

4.

TUCK IN ALL THE SCRATCHY EDGES

5.

THEN PUT YOUR WRAPPED ALUMINUM AROUND YOUR PINKY, A PENCIL, OR A MARKER. AND SQUEEZE THE BEAD AS HARD AS YOU CAN.

THIS WILL MAKE THE WALLS OF YOUR BEAD STRONG.

6.

RELEASE THE BEAD AND FINISH OFF BY TUCKING IN ANY OTHER EDGES!

7.

DO THIS MANY MORE TIMES FOR SHINY, BRILLIANT, ALUMINUM BEADS FOR YOUR DIY NECKLACES!
THINGS TO THINK ABOUT!
TRICKS + TIPS
Using your found materials, begin making your fabric beads and jewelry. Here's a few hints on how to get started:
Think about MATERIAL
What materials do you have in your space?

Do you have Tape? Glue? or both? 

You don't have to limit yourself to decorating with paper! Try decorating your necklace with aluminum foil, glitter, beads, and other kinds of materials. 
Think about LENGTH
Do you want your necklace to be short? Or do you want it to be long?

Add more beads to make your beaded necklace longer!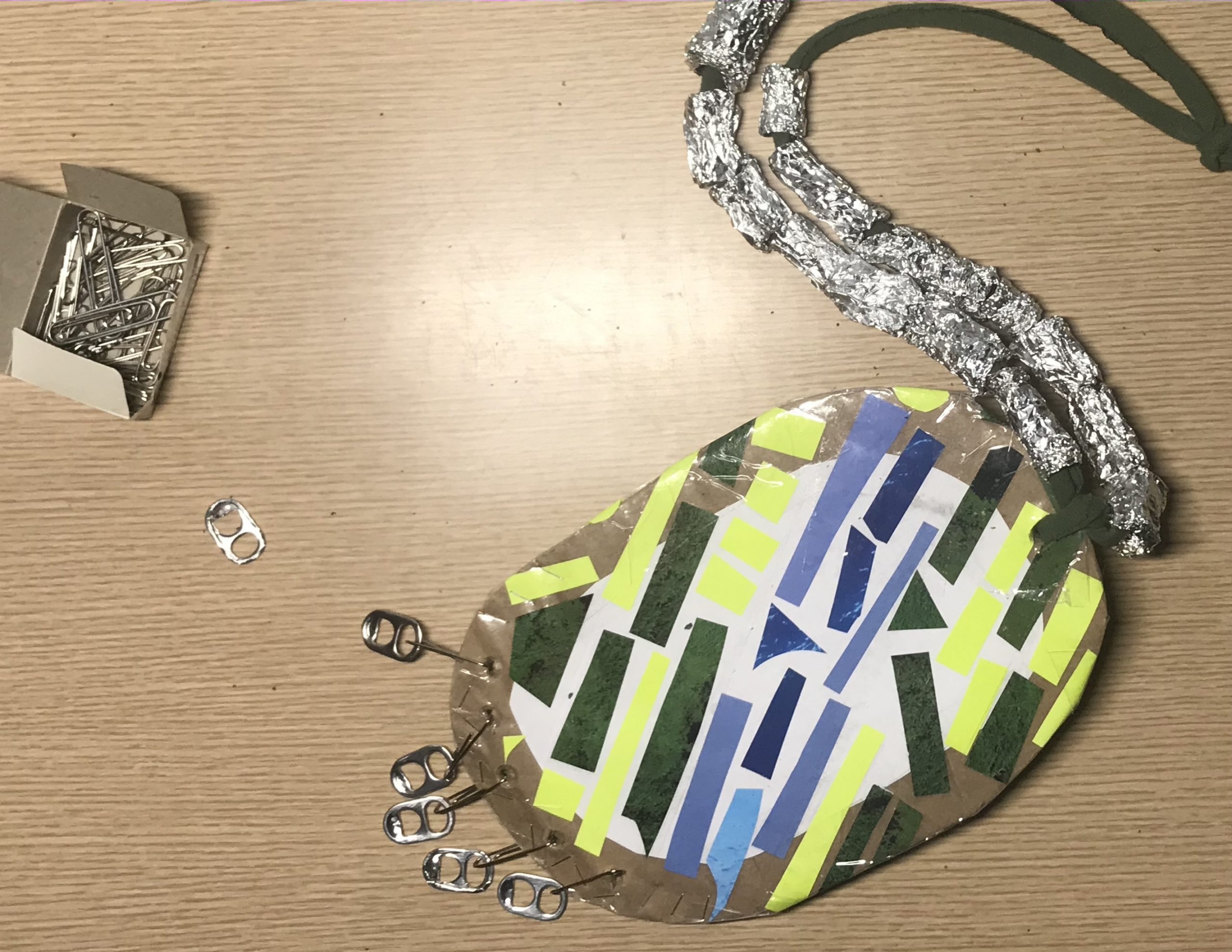 TEXT – EMAIL – TWITTER – INSTAGRAM
SHARE
If you have a camera take photos of your work! It's a great way to take a break and SHARE what you're doing with your Teacher, Family, or your Online Community.
If you have access to a camera, take photos and send them to your teacher!
If you or a grown up has access to social media, post your photos with the hashtag #MFTAOnline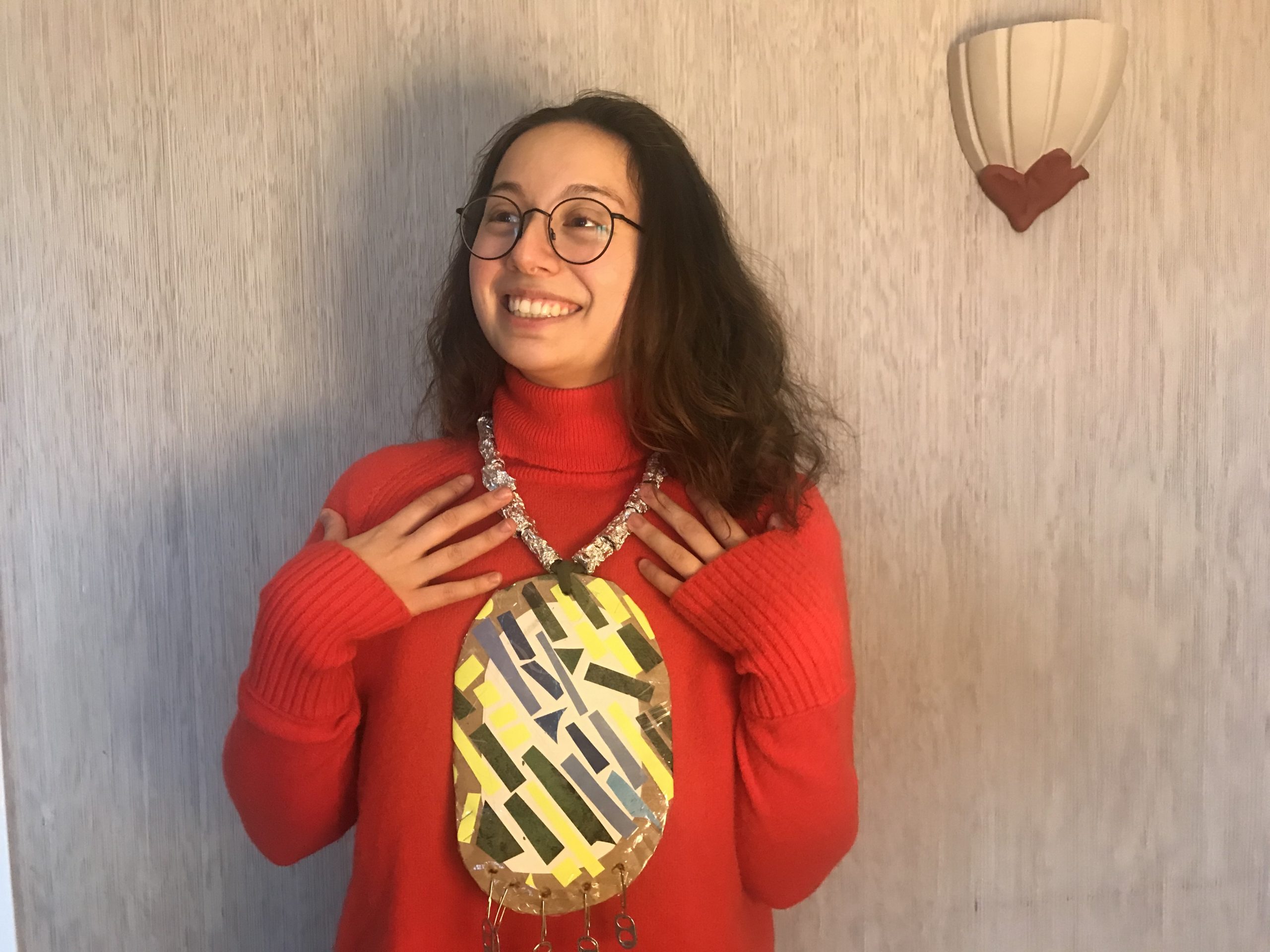 We want to know more about you:
Love MFTA? Fill out the form below to help us prove to our stakeholders that we're a positive impact on our community. None of this data will be used for marketing purposes. 
Here on a class trip? If a teacher from your school instructed you to complete this lesson, then add their email address below. The form will be forwarded to your teacher, as proof of taking this course.
Taking the course for fun? If you are just taking this course for fun, then you can leave the "teacher contact" information blank.
Sincerely, 
– The MFTA Team