MATERIALS FOR THE ARTS: LEARNS ONLINE
PAPER TUBE BEADS + HANDMADE JEWELRY
WHAT IS MATERIALS FOR THE ARTS?
INTRO VIDEO
WHAT ARE WE DOING?
TODAY'S ACTIVITY
Today, we are going to create large paper beads.
We will take toilet paper rolls, paper, and string to make a statement necklace.
The great thing about this project is these are items you have at home.  You can use any kind of paper, newspapers, post-its, old maps and junk mail. 
By using unneeded materials, it's great for the environment because :
Keep objects and materials out of the LANDFILLS.
They forces us CREATIVELY THINK about the things we don't want.
They are a RESOURCE to the Arts. A resource is something that is important, useful, or meaningful.
WHAT WILL WE NEED?
MATERIALS
Scissors
Paper Tubes
Colored Paper
Use any of these materials you can find!
Glue (or IY Glue!)
String
Cardboard
Markers
Pencils
Paint + Brushes
Tape
Plastic Wrap
Old T-Shirt
Decorative Materials
And here are some great places to look:
Kitchen
Recycling Bin
Clean Trash 
Junk Drawers
Deep part of closets 
LETS GET STARTED!
INSTRUCTIONS
1.

TAKE THREE TOILET PAPER ROLLS AND CUT IT IN HALF. OR TAKE ONE PAPER TOWEL ROLL, AND CUT IT INTO 6 SEGMENTS.

2.

USE GLUE, TAPE, FABRIC, PAPER, MARKER, AND PAINT TO COVER YOUR BIG BEAD.

3.

THEN DECORATE YOUR BEAD WITH SMALLER DETAILS.

INCLUDING: SMALLER PIECES OF COLORED PAPER, PIECES OF STRING, ALUMINUM FOIL, AND ANYTHING THAT WILL ALLOW YOUR BEAD TO SPARKLE.

4.

WHEN YOU'RE DONE WITH YOUR BEADS, DECIDE WHERE EACH BEAD WILL GO. WHICH ONE GOES IN THE MIDDLE?

5.

CONNECT ALL YOUR BEADS WITH A PIECE OF STRING.

IF YOU DON'T HAVE STRING, YOU CAN USE:
YARN, PLASTIC WRAP, CHORD, OR AN OLD T-SHIRT!

6.

AND WEAR YOUR STATEMENT NECKLACE PROUDLY!
THINGS TO THINK ABOUT!
TRICKS + TIPS
Using your found materials, begin making your fabric beads and jewelry. Here's a few hints on how to get started:
Think about MATERIAL
What materials do you have in your space? 

You don't have to limit yourself to decorating with paper! Try decorating your paper tube beads with aluminum foil, glitter, beads, and other kinds of materials. 
Think about LENGTH
Do you want your necklace to be short? Or do you want it to be long?

Add more beads to make your beaded necklace longer!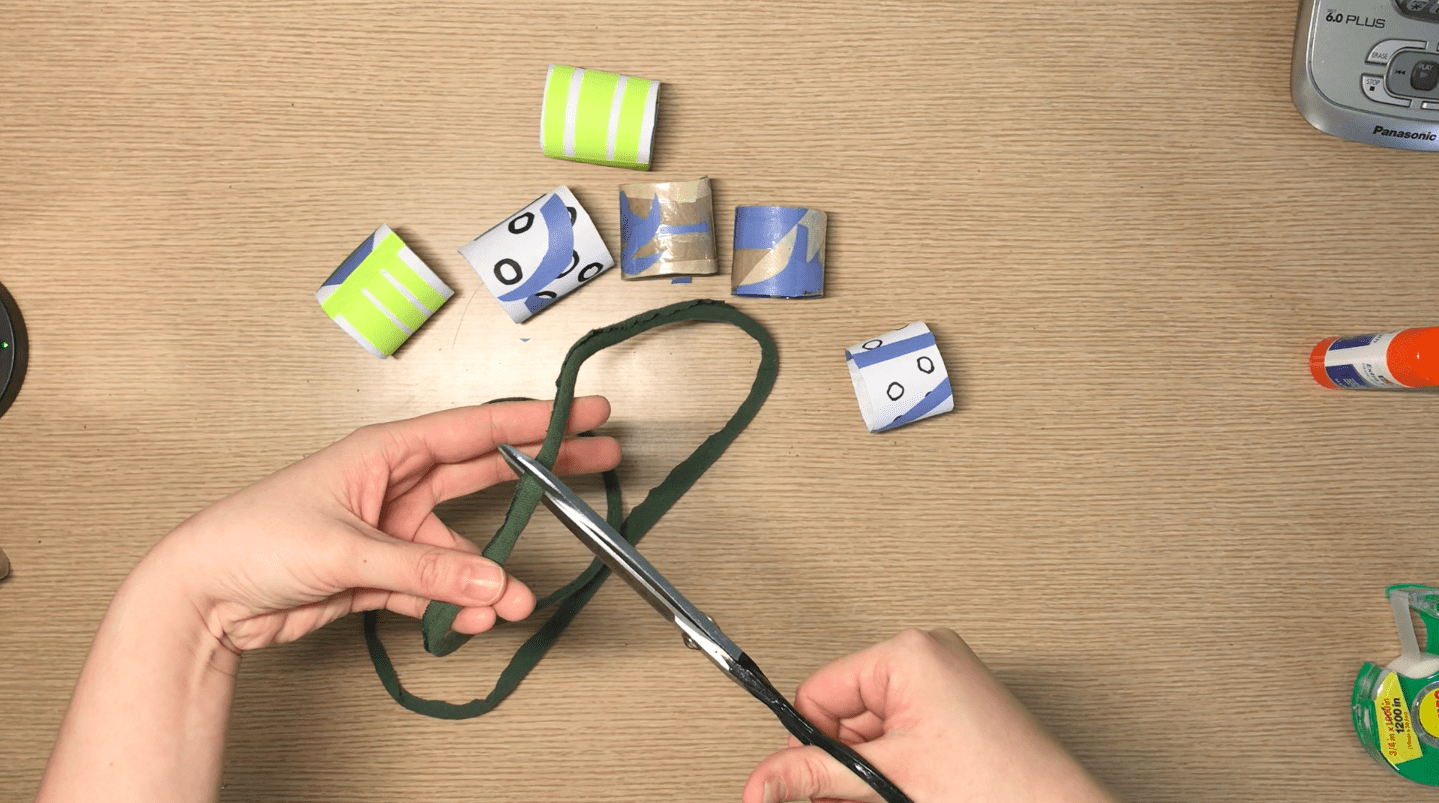 TEXT – EMAIL – TWITTER – INSTAGRAM
SHARE
If you have a camera take photos of your work! It's a great way to take a break and SHARE what you're doing with your Teacher, Family, or your Online Community.
If you have access to a camera, take photos and send them to your teacher!
If you or a grown up has access to social media, post your photos with the hashtag #MFTAOnline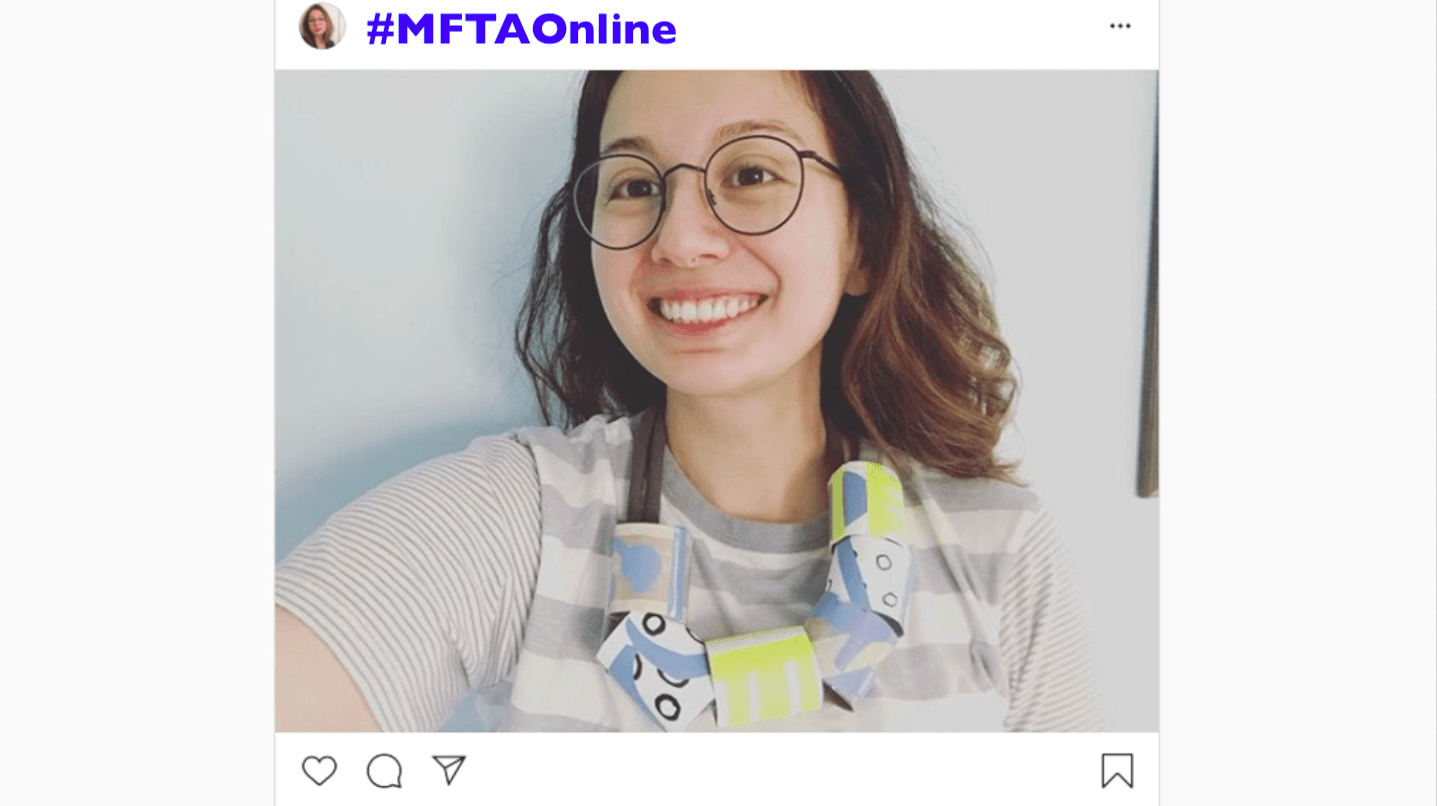 We want to know more about you:
Love MFTA? Fill out the form below to help us prove to our stakeholders that we're a positive impact on our community. None of this data will be used for marketing purposes. 
Here on a class trip? If a teacher from your school instructed you to complete this lesson, then add their email address below. The form will be forwarded to your teacher, as proof of taking this course.
Taking the course for fun? If you are just taking this course for fun, then you can leave the "teacher contact" information blank.
Sincerely, 
– The MFTA Team