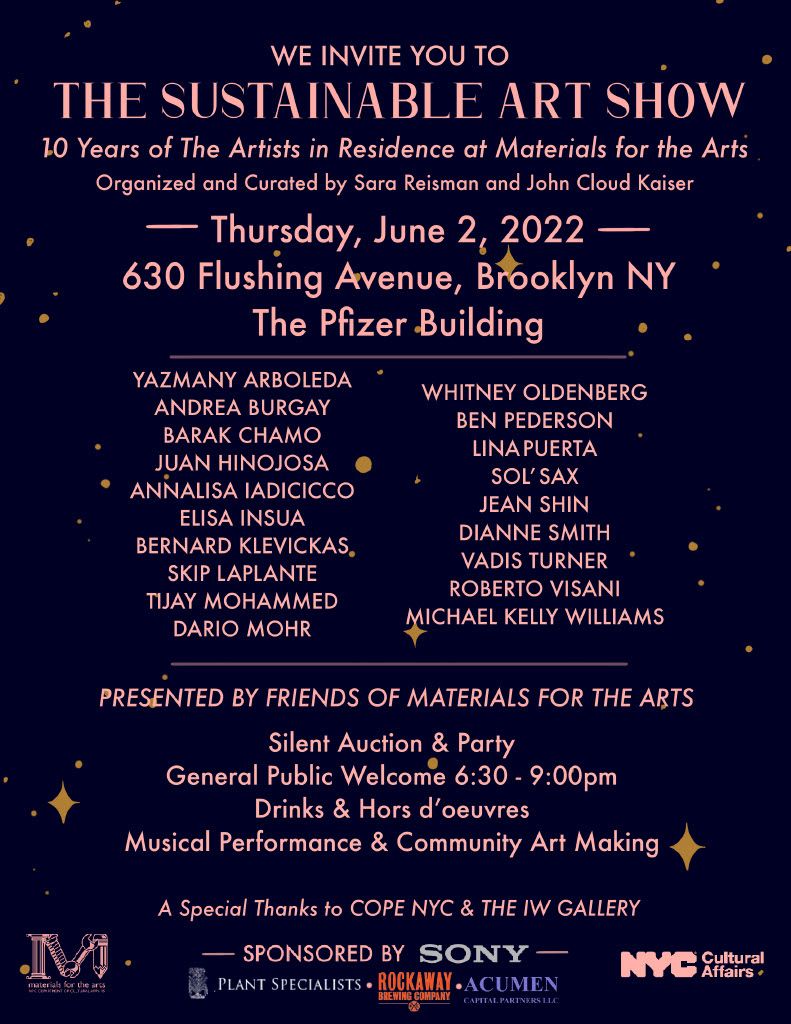 The Sustainable Art Show: Silent Auction & Party
June 2, 2022 @ 6:30 pm

-

9:00 pm
Join us at the Pfizer Building for a celebration of 10 years of our Artist-in-Residence program, which continues to inspire the public to envision how sustainably reclaimed materials can come together in the spirit of "creative reuse" to form innovative and imaginative works of art. We invite you in honor of this program to a gathering and exhibition entitled, The Sustainable Art Show, presenting artwork by our resident artist alumni.
Each year, our residency offers artists, whose creative practice incorporates reuse, studio space and access to our 35,000 square-foot warehouse of donated items to create a solo exhibition in our gallery. Located at the entryway to the MFTA warehouse, our gallery provides endless inspiration for sustainable artmaking for the organizations we serve: arts nonprofits, social justice, public school teachers, organizations, and social service groups, as well as school children and the public.
Enjoy live music, drinks, hors d'oeuvres, and conversation amongst NYC's creative community at this special exhibition celebration and auction. Funds raised from the auction of the artwork will support our Artist-in-Residence program.
---
The Sustainable Art Show is curated by Sara Reisman, Chief Curator and Director of The National Academician Affairs at the National Academy of Design and John Cloud Kaiser, Director the MFTA Gallery and Director of Education at Materials for the Arts. The exhibition will be on view Friday, June 3 – Sunday, June 6 (12:00pm – 5:00pm).
A special thanks to the exhibition sponsors Sony, Plant Specialists, Rockaway Brewing Company, and Acumen Capital Partners LLC, and to COPE NYC for sharing their space and THE IW Gallery for the exhibition.
Pursuant to NYC Conflict of Interest Board requirements, please note that donors to Friends of Materials for the Arts will receive no special access to City officials or preferential treatment as a result of a donation.