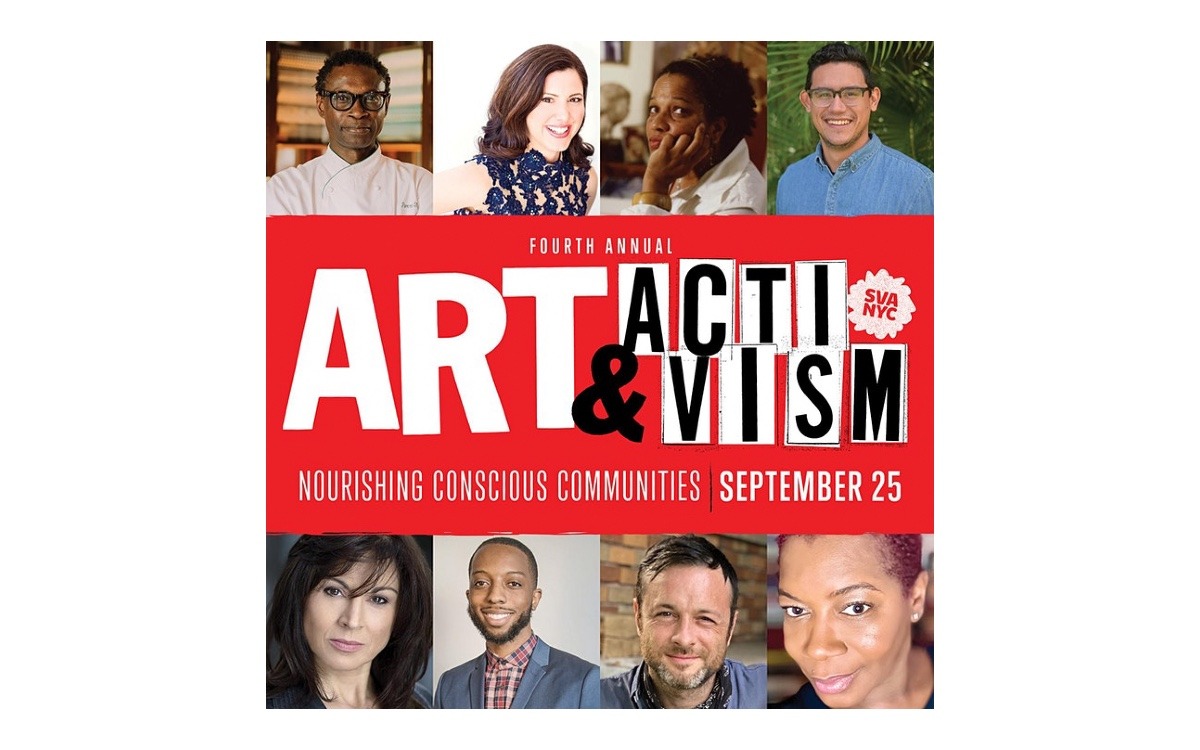 SVA Art and Activism: Nourishing Conscious Communities
September 25, 2020 @ 12:00 pm

-

7:00 pm
SVA's Division of Continuing Education is pleased to present its fourth annual Art & Activism event, which will be presented as an online symposium during Climate Week NYC. This symposium is dedicated to exploring the relationship between environmental and social injustices and how our talents and voices can organize to nourish conscious communities.
RSVP here and and use the same link to join us throughout the day! Zoom details will be emailed 24 hours prior to the start of the symposium.
12:00pm ET | Welcome and Introduction
12:05 – 1:05pm ET | Twisted, Woven, Tied
Following an introduction from John Cloud Kaiser, Director of Education, Materials for the Arts, New York City's largest creative reuse center, Artist Dianne Smith leads an interactive workshop in knotting and weaving with upcycled materials. Drawing from historical, traditional and contemporary global practices, the event will highlight the potential for fiber arts to activate community bonding and connection across time and geography, using found materials as a medium.
Participants are encouraged to source materials from within their homes, such as old textiles, clothing and linens, to be transformed into works of art. The workshop will include opportunities for discussion and sharing, and participants will learn strategies for introducing knotting and weaving as a collective practice in their own communities.
Suggested Supply List
Upcycled materials: clothing, linen, towels, rope, string, textile, pantyhose, tights, paper, newspapers, brown butcher paper, grocery bags, ribbons, plastic grocery bags, etc.
Scissors
Bag, bin, etc. to keep fabric strips in
1:15 – 2:15pm ET | Art, Community & Sustainability
Earl Thomason Jr., Co-Chair and Executive Director of Foundation of Freedom
2:30 – 3:30pm ET | Design Thinking for Public Spaces
Michele Washington, Climate Designer
3:45 – 4:45pm ET | Food Philosophies with Pierre Thiam
Pierre Thiam, Chef, Author, and Social Activist
5:00 – 5:45pm ET | From Song to Animation: Organizations Creating Change Through Art
Solar One, Not-for-profit Education and Sustainability Organization
6:00 – 7:00pm ET | Climate Justice & Designing the Future
Featured speakers of Art & Activism 2020 will discuss how their visions address climate justice, provide an opportunity to galvanize community and forge a dedicated path into the future.