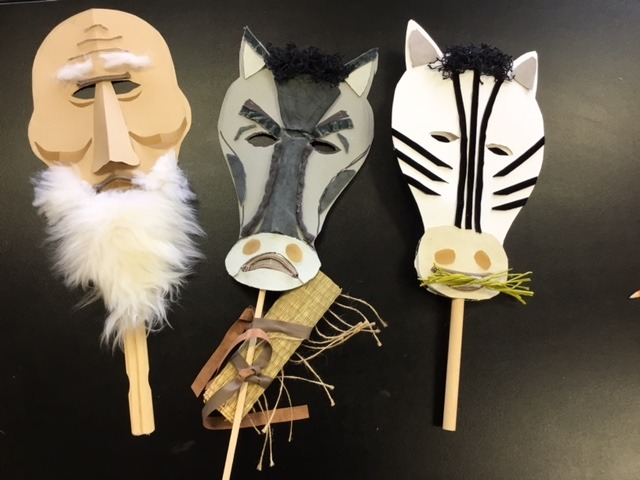 Props, Costumes and Set Design for Oral Presentations across the Curriculum (Online: Summer 2021)
July 12 @ 9:00 am

-

July 17 @ 5:00 pm
MFTA + ASPDP REGISTRATION IS OPEN. PLEASE REGISTER WITH ASPDP FIRST
.
Dates:  07/12 – 07/17 (Monday – Saturday)
Time: 9:00am – 5:00pm
Credits: 3 P-Credit/45 CTLE hour*
Curbside Pickup Appointments: 6/21, 6/23, 6/28, 6/30, 7/5, 7/7, 7/12, 7/14
Instruction: Online Instruction**

Course Description: This course is designed to enhance oral presentations in the classroom through the use of project based learning to create props, costumes and set designs made from reusable materials. Through guided art instruction, participants create hands-on art projects that integrate differentiated instruction into various learning modalities and multiple subject areas, providing critical thinking skills to enhancing rigor in the classroom. The sessions are broken down into five days of hands-on art making, problem solving, inquiry, observation, documentation and oral presentation. Sessions include: 1). Retelling Stories-Personal Narratives, Using Hats and Masks as Props 2). Music-The Sound of Science; Literacy & Math in Music; 3).  Shadow Puppetry Using Informational Text-People, Places and Things; 4). Costuming/Props/Set Design for Reenactment of Events Fiction/Non Fiction; 5). Studio Art Day/Group Project Work; 6).  Group Presentations and Peer Assessment.
For more information, view the syllabus on the ASPDP Website. MFTA_Props Costumes
Note: Due to the adaption of this course for online learning, some group work may be completed on an individual basis.
MATERIALS: COVID -19 Update:  This year, Materials for the Arts faced an unusual challenge of turning our in-person class into an online class. In order to keep supply materials and class costs as low as possible, each participant can schedule a socially distant Curbside Pickup Appointment at our Warehouse to pick up a pre-packed box of free materials for your class. In addition, each participant will need to  independently purchase or borrow materials listed on your course Supply List.
Curbside Pickup Appointment Times:
2:30 – 3:00pm on June 21, 23, 28, 30, July 5, 7, 12, 14
SELF SUPPLY LIST :

Items include items that may need to be purchased (ex. Hot Glue Gun) or materials that can be found or gathered (ex. Recycled Paper, Cardboard Boxes.)
Recycled Paper/Cardboard
Cereal boxes and/or Pizza Boxes
Fabric
Cardboard
Glue Sticks
Stapler
Sharpies
scissors
scotch tape
magazines
photos
scrapbook/mixed papers
yarn
ribbons
beads
buttons
Hot glue gun/sticks
*To receive P-Credits, participants must FIRST RSVP and and pay an additional fee through the ASPDP website, then register with the MFTA website.
ASPDP SUMMER REGISTRATION IS NOW OPEN.

** Classes are LIVE with Teaching Artist Joy Suarez. This is not a self-directed online course.
Need a reminder? Join our Educator Email List for updates about Professional Development Courses. Topics include course details, registration notifications, +30/P-Credit/CTLE Courses, and more!