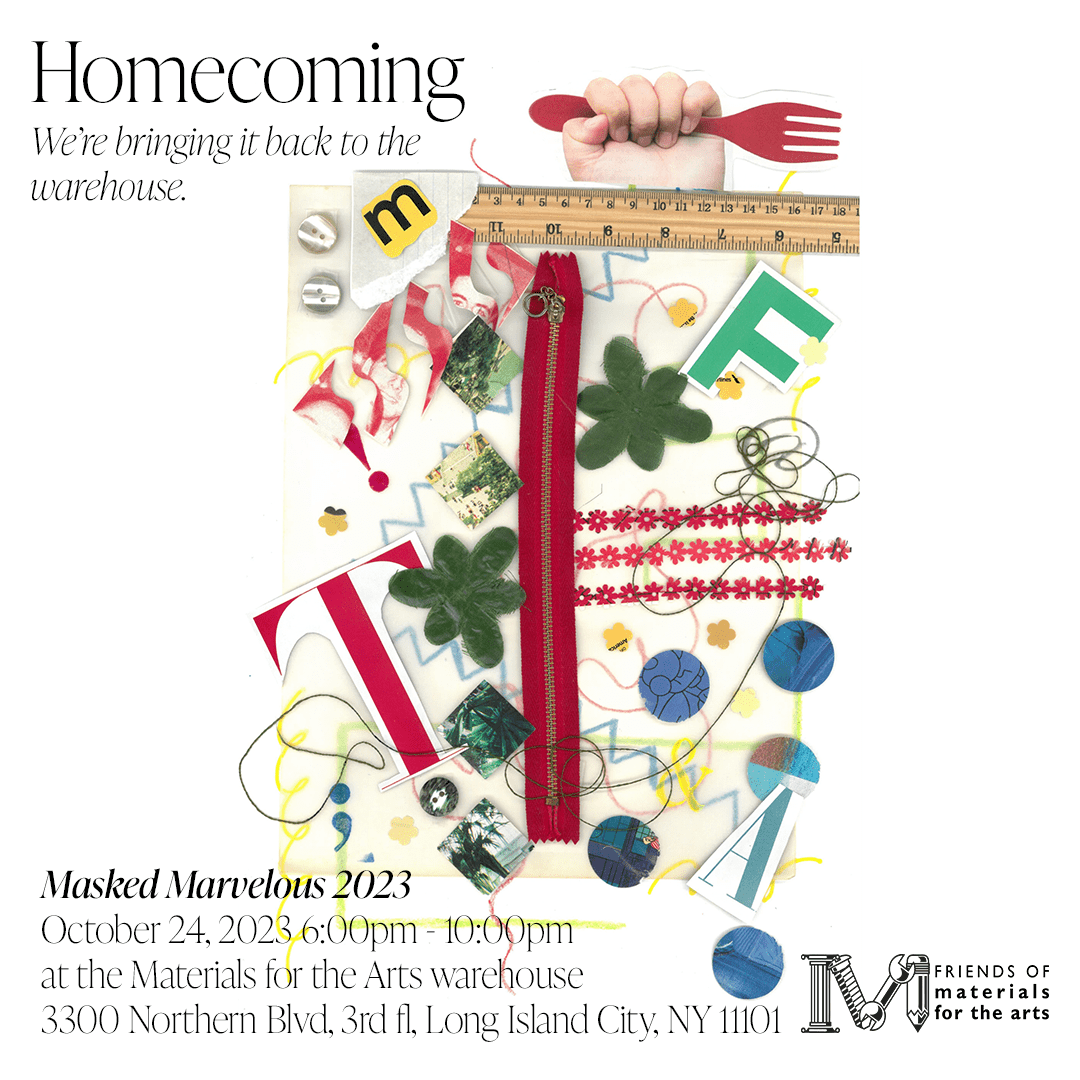 Masked Marvelous 2023
October 24 @ 6:00 pm

-

10:00 pm
Friends of Materials for the Arts (FOMA) is excited to host the Masked Marvelous Cocktail Party at our warehouse in Long Island City for the first time since 2019! Please join us on Tuesday, October 24th from 6:00-10:00 pm as we celebrate this year's theme "A Homecoming – Back to the Warehouse." This celebration will also feature a first look at the exhibition by Machine Dazzle, our current Artist-in-Residence.
We are immensely proud to honor Bloomberg, Pentagram and Modesto "Flako" Jimenez for the significant relationships that they continue to build and support in the NYC arts community through our organization. Every single Wednesday, Bloomberg volunteers support us in the warehouse helping to prepare for shopping days. Over the last year, Pentagram supported our growth with a rebranding strategy as we look to the future of MFTA's footprint within the city. Additionally, it has been a privilege to partner with Flako, a DCLA Public Artist in Residence (PAIR), as he works to bridge his art with Oye Group's Mercedes Project/ Mercedes Healing Room on Governors Island and with NY Health and Hospitals.
Join us in this homecoming celebration where you'll have the chance to enjoy live music, roving entertainment, local cuisine, and community at this one-of-a-kind event.
Materials for the Arts
33-00 Northern Boulevard, 3rd fl.,
Long Island City, NY 11101
Pursuant

 to NYC Conflict of Interest Board requirements, please note that donors to Friends of Materials for the Arts will receive no special access to City officials or preferential treatment as a result of a donation.