VIRTUAL GALLERY
"The Path of Least Resistance" by Elisa Insua
Materials for the Arts is pleased to present "The Path of Least Resistance" by MFTA Artist-in Residence Elisa Insua.
This exhibition showcases the upcycled assemblage works by Insua, which feature a variety of discarded objects including glimmering pieces of jewelry and charms, sleek black electronics, playful knick-knacks and toys, and dazzling beads, which become poetic interpretations of consumerism and excess. 
"The Path of Least Resistance" examines themes centered on economic issues, extravagance, equality, waste, and the idea of being successful as we wrestle with modernity. Insua poses the question, Is it in our nature to be collaborative or competitive? The answer usually lies in the environment: just the way walls, doors and fences restrict and direct our movement, the abstract social and economic "rules of the game" held in place define our conduct.
Photographs of this exhibition were taken by Kevin Shaw. We hope you enjoy our 3D virtual tour of the exhibition designed by Mac Smith.
Visit MFTA Gallery
You can also visit MFTA Gallery by scheduling an appointment. "The Path of Least Resistance" will be on view through Thursday, October 14, 2021.
This exhibition is made possible through the generous support of  The Shelly and Donald Rubin Foundation and New York State Council on the Arts.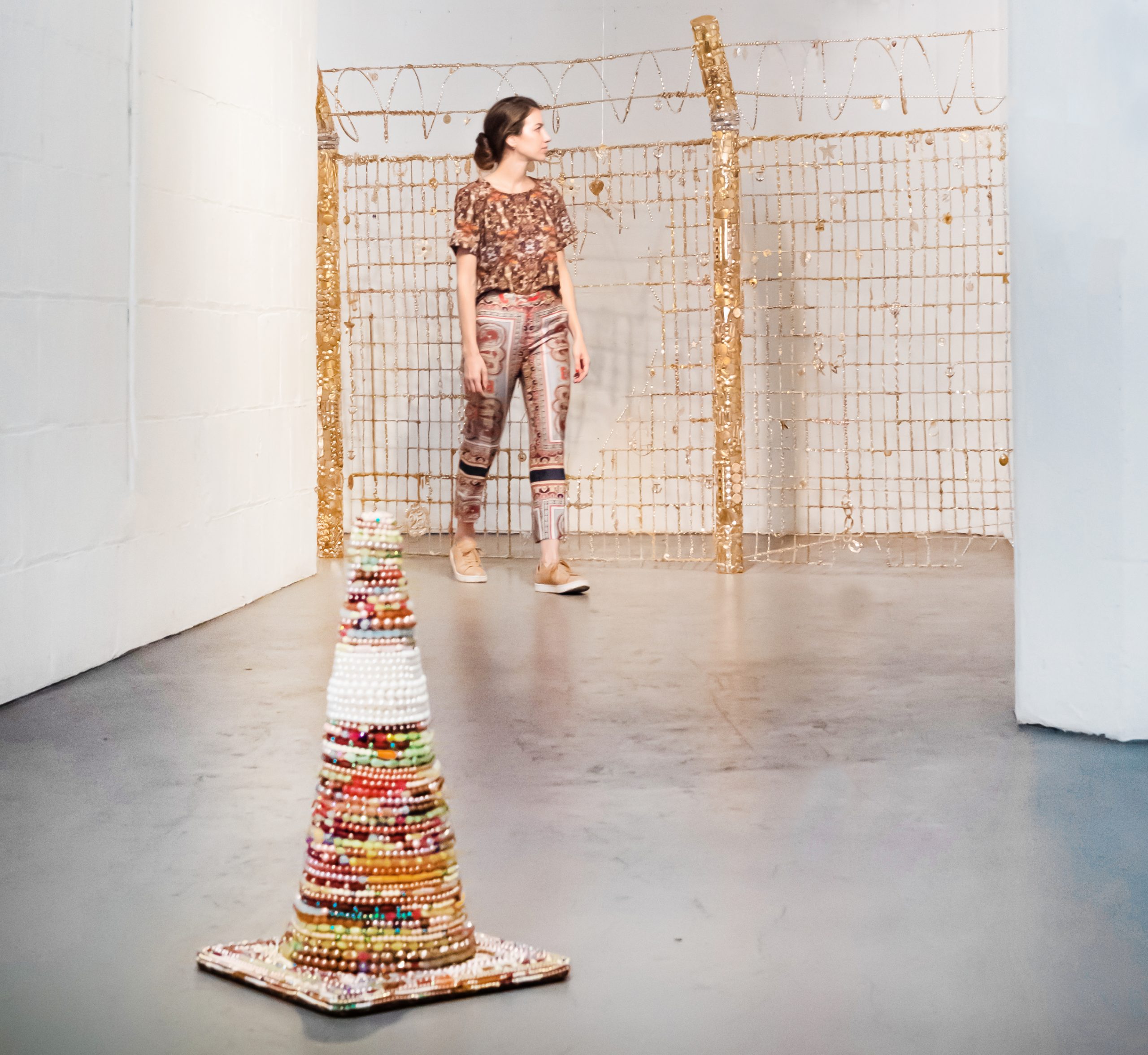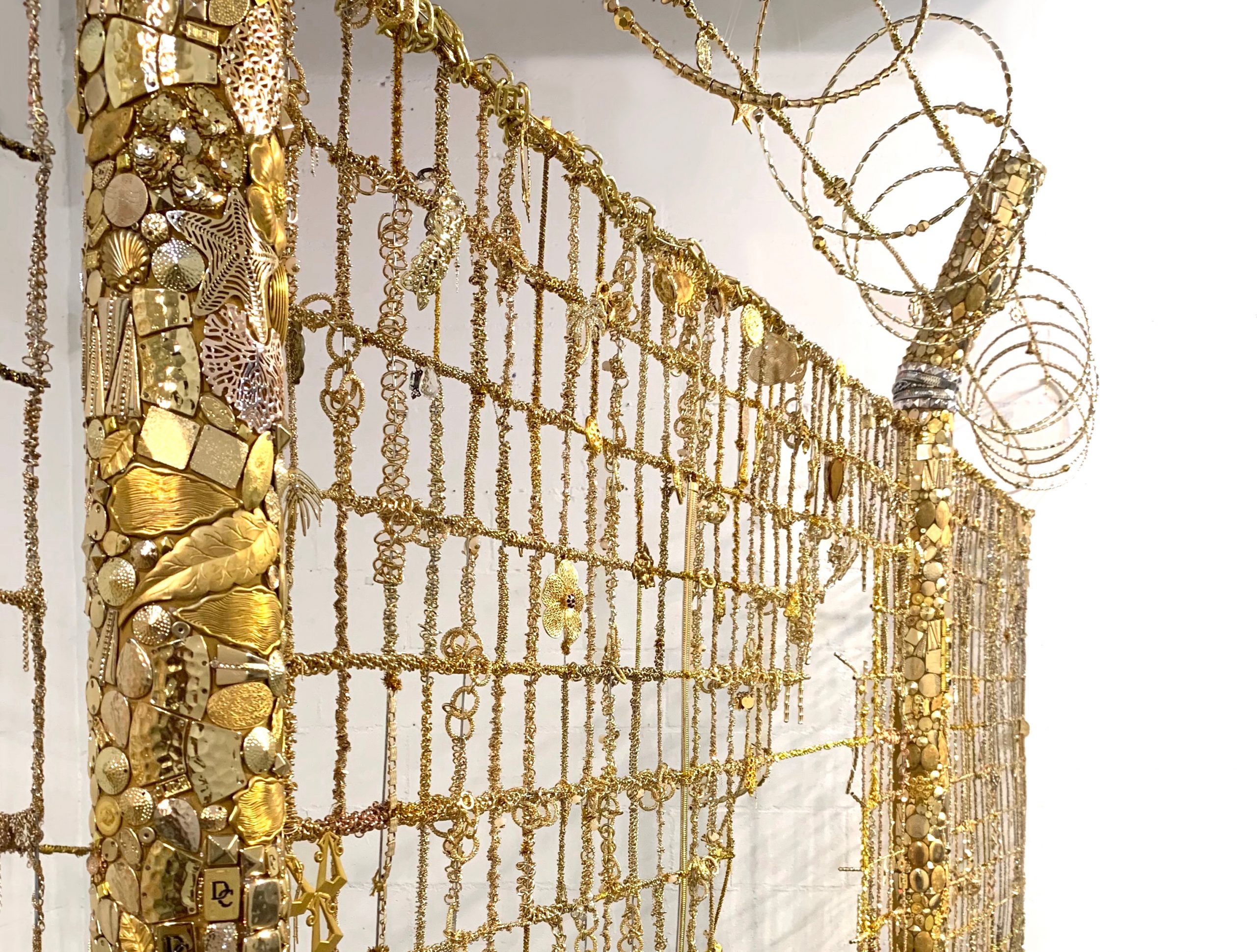 Circumscribed Movement, 2021.
Assemblage of toys, electronics, and found objects.
Exclusive Exclusion, 2021.
Wire, beads, and jewelry on fencing.
Elisa Insua
Dismissed Warning, 2021.
Traffic cone and an assortment of colorful beads.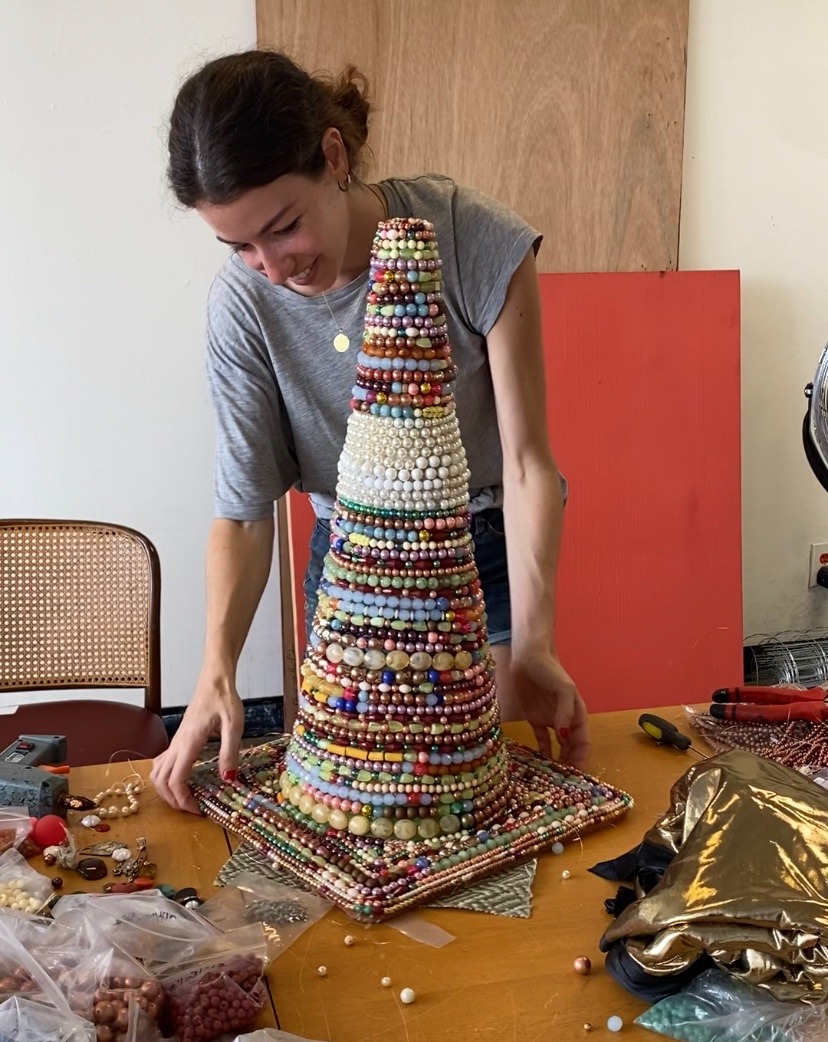 About Elisa Insua
About Elisa Insua
Elisa Insua was born in Buenos Aires in 1990. In 2011 she completed her degree in Economics and Business at Torcuato Di Tella University. At the age of sixteen, she started her practice as a self-taught artist, creating assemblages and sculptures with discarded materials. She gradually fused her artistic practice with concepts related to economics, overconsumption and human insatiability. In the following years, she studied sculpture with Miguel Harte and was part of group critiques with Fabiana Barreda, Diego Bianchi and Ernesto Ballesteros.
In 2014, she had her first solo show, "Stairway to Heaven" at Plataforma (Córdoba, Argentina), followed by "More is More" at Espacio Modos (Buenos Aires, 2016) and "Quid Pro Quo" at APPA (Madrid, 2018). In 2019 she had her largest show to date, "Virtual Vanitas" at Usina del Arte (Buenos Aires, Argentina). She was part of various group shows in South America and Europe, including "Ludica" at MACSur (Museo de Arte Contemporáneo del Sur, Buenos Aires, 2018), "Memento Mons" at Beaux Arts Mons Museum (Mons, Belgium, 2019), "Slight Omission" at Cerquone Projects (Madrid, 2018) and "Proyecto Vergel" at María Casado HG (Buenos Aires, 2016).
MFTA highlights amplifies artists whose practice incorporates creative reuse. Learn more about reuse art and the MFTA Gallery.