MFTA + CLOZTALK
Support MFTA with some new threads
We are proud to team up with CLOZTALK to share our new merchandise with you. You can now show your MFTA pride with a selection of MFTA shirts, polos, jackets, hoodies, hats, caps, and leggings. Proceeds from your purchase will support Friends of Materials for the Arts' education and public programming.
Whether it is by visiting our warehouse for free arts materials, taking a workshop, or attending a gallery opening, we strive to engage with and educate the public on the value and importance of creative reuse. Friends of Materials for the Arts was created to enrich the mission of MFTA by providing financial support for MFTA's operations and educational programming.
Learn more about Friends of Materials for the Arts >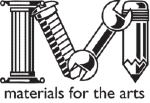 MFTA EDUCATION CENTER

The MFTA Education Center offers field trips, in-school residencies, professional development courses, and community workshops focused on creative reuse. Learn more about MFTA with this guided tour of our facility, and explore our education program resources and offerings. 
MATERIALS FOR THE ARTS
Materials for the Arts is NYC's is the city's largest creative reuse center dedicated to providing arts organizations, public schools, and nonprofits with ongoing arts programs with valuable items, free of charge, while diverting them from landfills.
FRIENDS OF MFTA BY THE NUMBERS
360
public programming attendees
31000
people reached with education and public programs
"Every year, our school has been able to participate in MFTA's year long residency. We participate in about 60 sessions. This includes family and student engagement with 3 parent workshops with a main focus on our garden, which is really the nucleus of our school."