VIRTUAL GALLERY
"Archetypes: A Visual Soundtrack" by Dario Mohr
Materials for the Arts is pleased to present "Archetypes: A Visual Soundtrack" by MFTA Artist-in Residence Dario Mohr.
"Archetypes: A Visual Soundtrack" is an exploration of Jungian archetypes and the collective unconscious through music and popular culture. Mohr has transformed fabric, furniture, and found objects into twelve shrine-like works, which represent Carl Jung's archetypes and pay homage to some of the greatest departed musicians of our time.
Mohr's exhibition combines the physical and the metaphysical transforming MFTA into a sacred, meditative space. Each work, crafted with glowing LED lights, glows with a reverential energy.
"Archetypes: A Visual Soundtrack" is the largest exhibition to be on view at Materials for the Arts; Mohr's works fill the MFTA gallery and artist studio. We hope enjoy our 3D virtual tour of the exhibition designed by Mac Smith. As you navigate through the tour, you can view videos of Mohr activating each work. You can also view the full activation video here.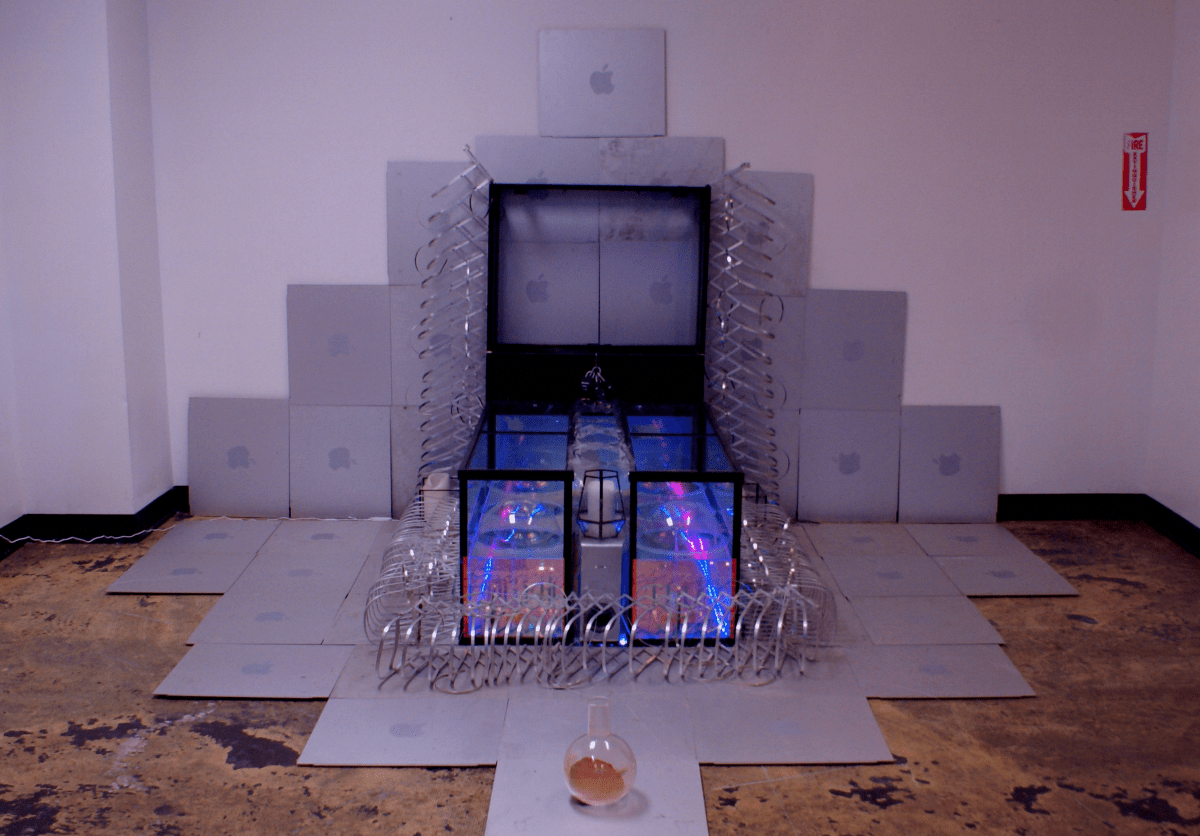 Baby I'm a Star, 2021.
Original acrylic paintings projected on bust, faux flowers, stadium light, faux fur, lanterns, wooden structure.
Keep Ya Head Up, 2021.
Acrylic transfers of original painting prints on PVC roll, hanging on clothes rack, wooden dominoes, faux candles, photos, meditation bench, LED lights.
Dario Mohr
…I Got Life, 2021.
Glass, LED lights, original painting print, faux candles, photos.
Dario Mohr
Natural Mystic, 2021.
LED lights, sconces, wood, acrylic on canvas, acrylic on paper, leather fabric, shear fabric, beaded curtain, mirror, rope, miscellaneous objects, faux flowers.
Dario Mohr
I Care 4 U, 2021.
Original paintings on canvas, partition, large vessels, lights, cushions, bookshelf, miscellaneous objects.
Dario Mohr
Love is a Losing Game, 2021.
Velvet, wood, brass instrument case, original paintings, prints of original paintings, lampshades, wheat, lights, shelf, miscellaneous objects.
Dario Mohr
Man in the Mirror, 2021.
Metal rack, PVC, painting on skateboard, LED lights, mannequin limbs, acrylic transfer.
Dario Mohr
Points of Authority, 2021.
Glass tanks, wooden shelf, retractable metal brackets, LED lights, test tubes, Apple computer parts, animation of original painting on tablet.
Dario Mohr
Jesus Christ Pose, 2021.
Broken easel, basket, acrylic transfer of original painting print, LED lights, giant dreidel, glass, faux crow.
Dario Mohr
Wicked Garden, 2021.
Stone vessels, comic pages, elephant skin fabric, light, bus seat, original painting slideshow.
Am I Inside, 2021.
Tulle, doily fabric, t-shirts, projected original paintings on trash can, light, tree stumps, candelabras, candles.
Dario Mohr
The Temple of The King, 2021.
T-shirt, stage lights, velvet, fabric, shelf, bench, cushions, ramp, books, wooden box, hands sculpture, candelabras, candles.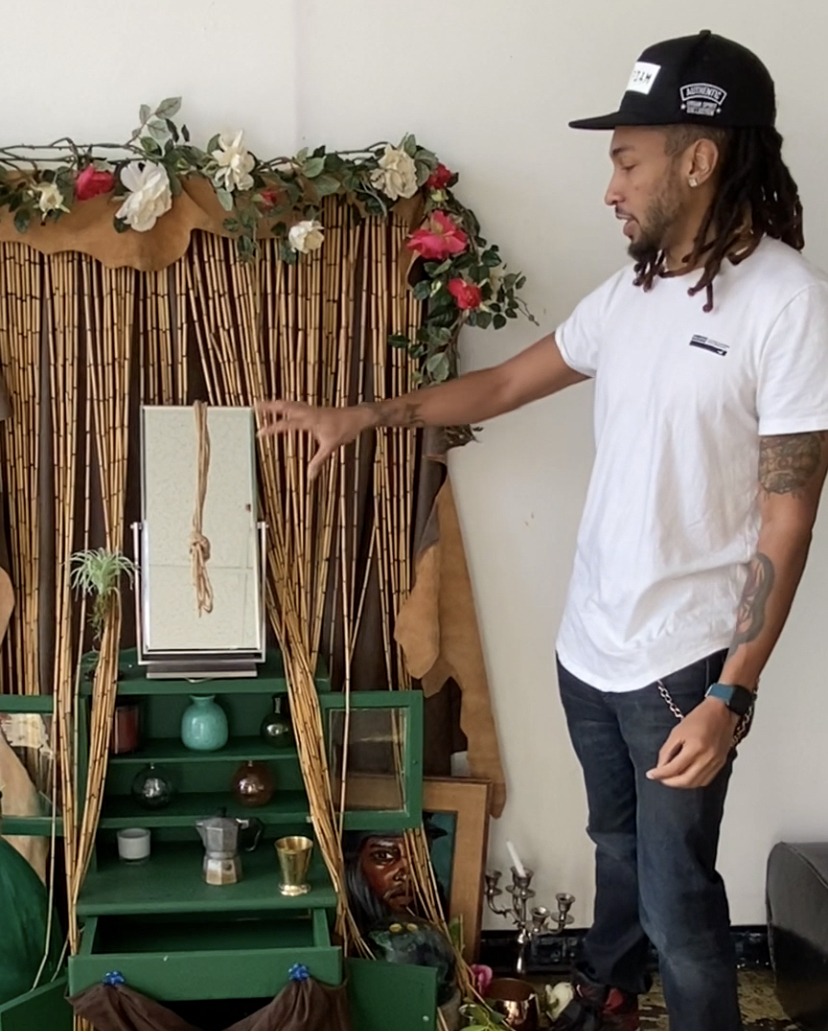 About Dario Mohr
About Dario Mohr
Dario Mohr is a painter, assemblage and installation artist. He is a Brooklyn, NY based artist born in 1988. Mohr combines nostalgic personal objects of varying heights with found materials to form shrines. These occupy the space in varying ways, leaning against walls, hanging from the ceiling, and existing as free standing sculptures with an architectural aesthetic. They also contain altars with organic offerings, symbolically designating them as devotional objects. Although created from a personal vantage point, the work functions publicly to open the audience's perspective to ways they can reimagine nostalgic objects as symbols for memories, people, and experiences that can take on a spirituality of their own when revered in a way that is decontextualized from religion.
Dario Mohr is also the founder and Director of AnkhLave Arts Alliance, Inc. which is a non-profit for the recognition and representation of people of color, particularly indigenous communities around the world.
MFTA highlights amplifies artists whose practice incorporates creative reuse. Learn more about reuse art and the MFTA Gallery.